My husband and I laugh about all the acronyms and abbreviations that we see daily…LOL, they always make me smile, laugh or roll my eyes, as in the case of FOMO (fear of missing out) insert eye roll and a little belly laughter. When it comes to fashion, I do love a LBD (Little Black Dress) and how versatile it is in a wardrobe, black is timeless and can often be both casual and elegant, depending on your accessories.
I love this image of CHANEL dresses (photo via Chanel Couture) on a simple rack. They are all so different, some with ruffles some without, sheer and opaque fabrics, sleeveless and one shoulder. They represent so many endless and lovely options that a black dress can offer. Black has a way of commanding attention, these statement pieces are no exception!
The LBD of interiors might be= Livingroom-Bedroom-Diningroom, 3 key places that we spend the most time in other than the heart-of-the-home, the kitchen. I like to keep my color palette harmonious and nearly monochromatic in my home. This approach lends itself to seasonal changes and a sense of calm as you move from room to room.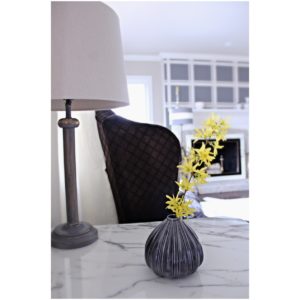 I like to  add a few touches of black to my primarily white and grey rooms, in all three of my LBD rooms. I love bold moments with a crisp graphic appeal, so black and white (or off-white) makes that an easy statement.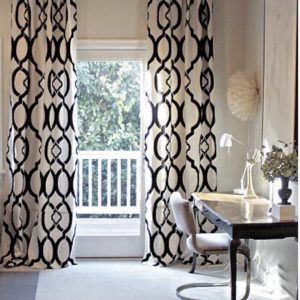 Employing accessories like slipcovers, drapes, table linens or framed artwork all add texture and interest to your room. Black just punctuates them.  I used black placemats from Target to add a little drama to my table decor for a men's dinner event a couple months ago. The greenery and black details gave the table a strong presence.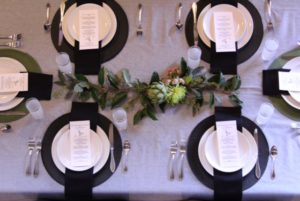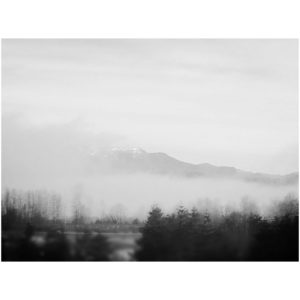 I took this photo from my deck outside my dining room and think it would make a great framed art for a wall somewhere in my home…not sure where, but that's the fun part! I will need to find a frame and get it printed and then I can "audition" it around the house!
You can see in the photos how black adds a bit of drama to an otherwise neutral palette. Layering seasonal decor and adding color just adds more depth and you can do this as the mood hits!
I hope you feel inspired to add a touch of drama by using black in your next decorating project!
Fashionably Yours, Lisa