Welcome to The Design Document, I'm so happy you are here!
   This time of year is so great, the trees are starting to display their grandeur  and the birds are chirping when the sun comes up. It seemed like a good time to re-launch my blog and polish up my act!
   I am excited you are here for my first blog on the newly re-vamped website! If you have been following me since the beginning, I appreciate your encouragement and patience!
   I have exciting new designs and interiors to share with you, which will include a master bedroom makeover for my sister Shelley (my biggest fan and encourager),  assisting my niece with her wedding flowers & site decor in May and an exciting barn renovation which includes interior & exterior projects that I am anxious to share with you. Glad to have you along for the ride!
HELLO SPRING
   Easter is right around the corner and I love to entertain. My favorite style of entertaining is a casual buffet setting for family and friends. It always encourages mingling and more conversations tend to take place with more people than a sit down affair. It's a bit of a party atmosphere, and I like that!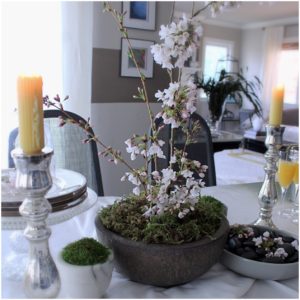 My centerpiece this year is a recycled hostess gift from a friend, originally it was filled with living tulips you can see in my post "Make an Entrance".  After the tulips finished blooming I put the bulbs into the ground outside and I will see if they visit my yard next year! Not sure if I needed to cold storage them, but I'm giving this plan a whirl. The stone pottery and moss were beautiful to reuse as a base  and all I needed to do was add new flowers. My cherry blossom tree is just starting to bloom, so I clipped a few branches and arranged them into the pot. I liked the drama and height they created.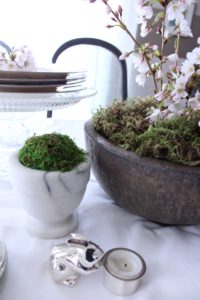 I have been on a marble collecting kick lately. I buy marble items whenever I see them at vintage and thrift shops. This little marble bowl is actually a mortar you use to grind herbs. I filled it with a few stones and layered some preserved moss to form a green topiary ball. The small silver-plated bunny votive holder is from Restoration Hardware, I found 2 of them several years ago. Isn't he a cutie?!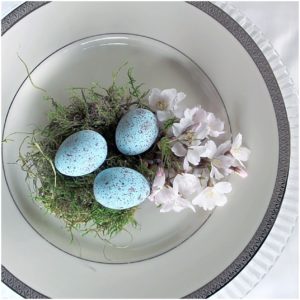 I sprinkled a few eggs on my stacked plates and added a little green moss and a small clipping of blossoms to create a simple touch of color to my table. My plates are from an estate sale I went to over 10 years ago, and I love to mix and match them with my wedding china.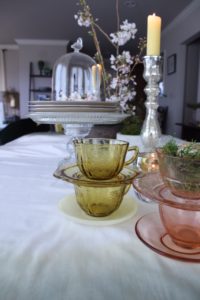 I stacked the plates on a cake stand that I made using an old lamp base of cut crystal and a plate with a fluted edge, I used this for my Christmas cake this past year, too. The domed topper is so fun, it's hand-blown glass with a cute hummingbird as the handle.
I purchased these grey polka-a-dot napkins from HomeGoods and I love how they go with everything, I added wooden napkin rings with fresh blooms and a eucalyptus leaf. These are actually drapery rings, see that eye screw, it was perfect for adding the greenery touches! LOL.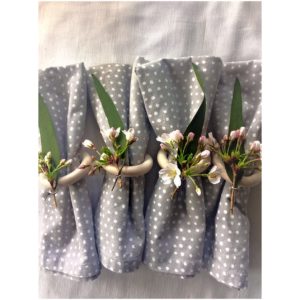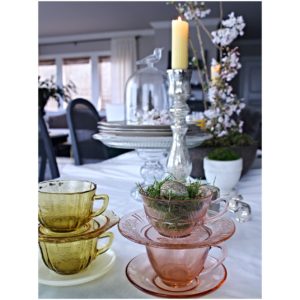 The Cherry blossom color inspired me to use my vintage glass-tinted tea cups. I always like to play with mixing old & new items in my home decor for a fresh vibe! The mix feels curated and collected to me. That's why I like to say I am a "modern mixologist" – always concocting something unique by merging old with the new!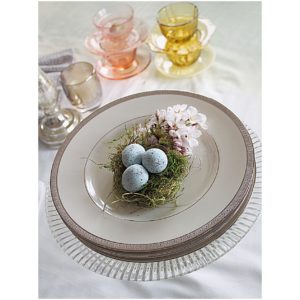 Thank you for visiting! Fashionably Yours,
Lisa