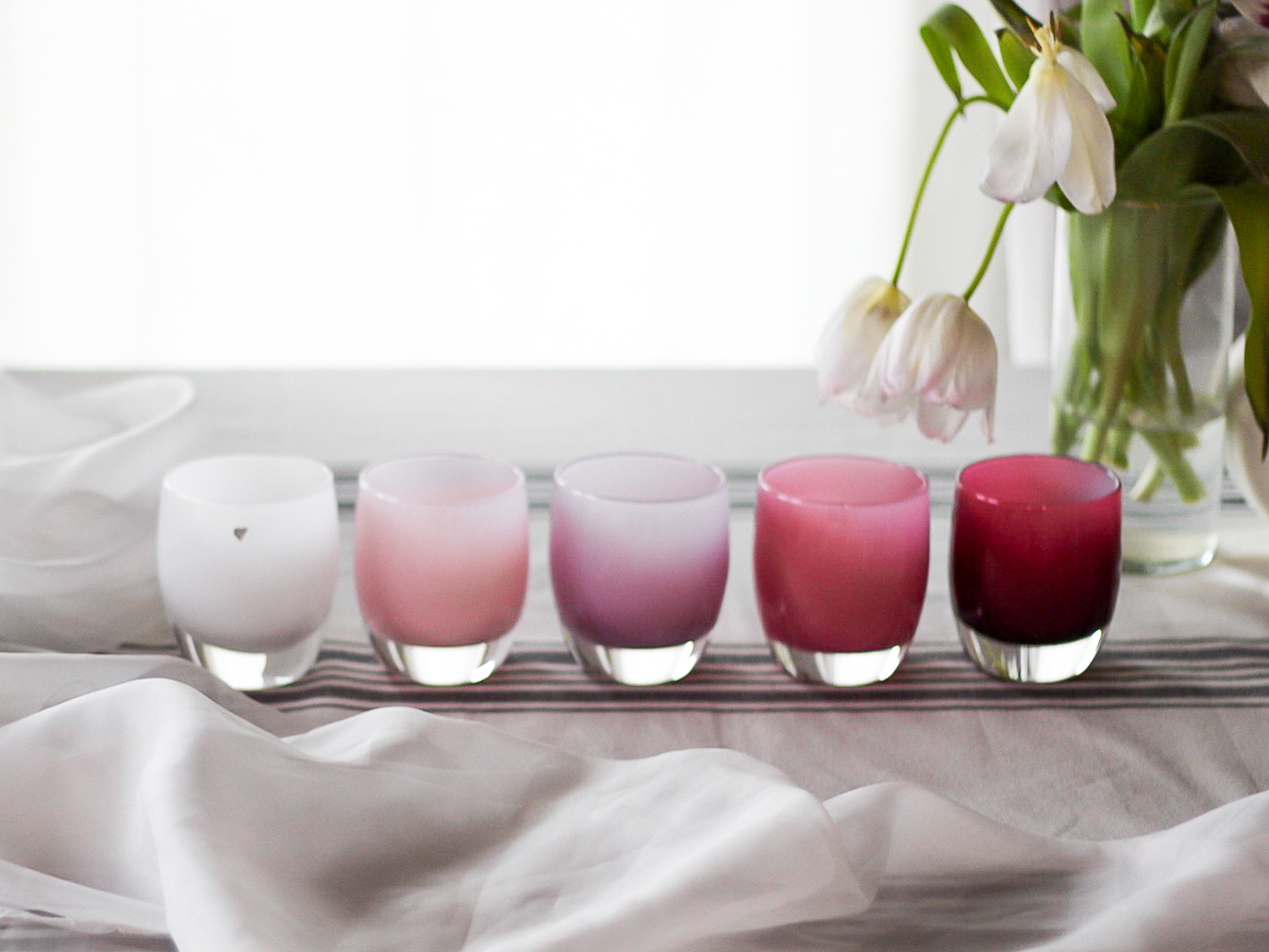 I have a love affair with simple, elegant and relaxed  tablescapes, you know the kind…the ones you can throw together in a matter of minutes and they look purposeful and curated. I have been collecting these beautiful hand-blown candle votives from GlassBaby for many years. I received most of my collection as gifts for Christmas and birthdays and I love seeing the colors that my friends and family select for me. This ombre' set of pinks that gradiate from a whisper of blush to a deep raspberry lipstick are the newest colors created just in time for Valentine's Day and I love them! I'm not a girly girl, but I do like pink when it's grounded with a little drama. I pulled out my big ticking stripe grey table linens from World Market to create a graphic backdrop for these pink beauties. I love ALL  the napkins from World Market, they have the best quality and assortment of colors, but this stripe design was the perfect paring for the pinks, I have an affinity towards stripes and clean patterns. I knew this combination was just what I wanted!  The graphic quality keeps the pink from veering off into that girly zone and keeps it feeling modern to me. Although I admire "girly" pink décor,  it just doesn't suit my house or décor aesthetic.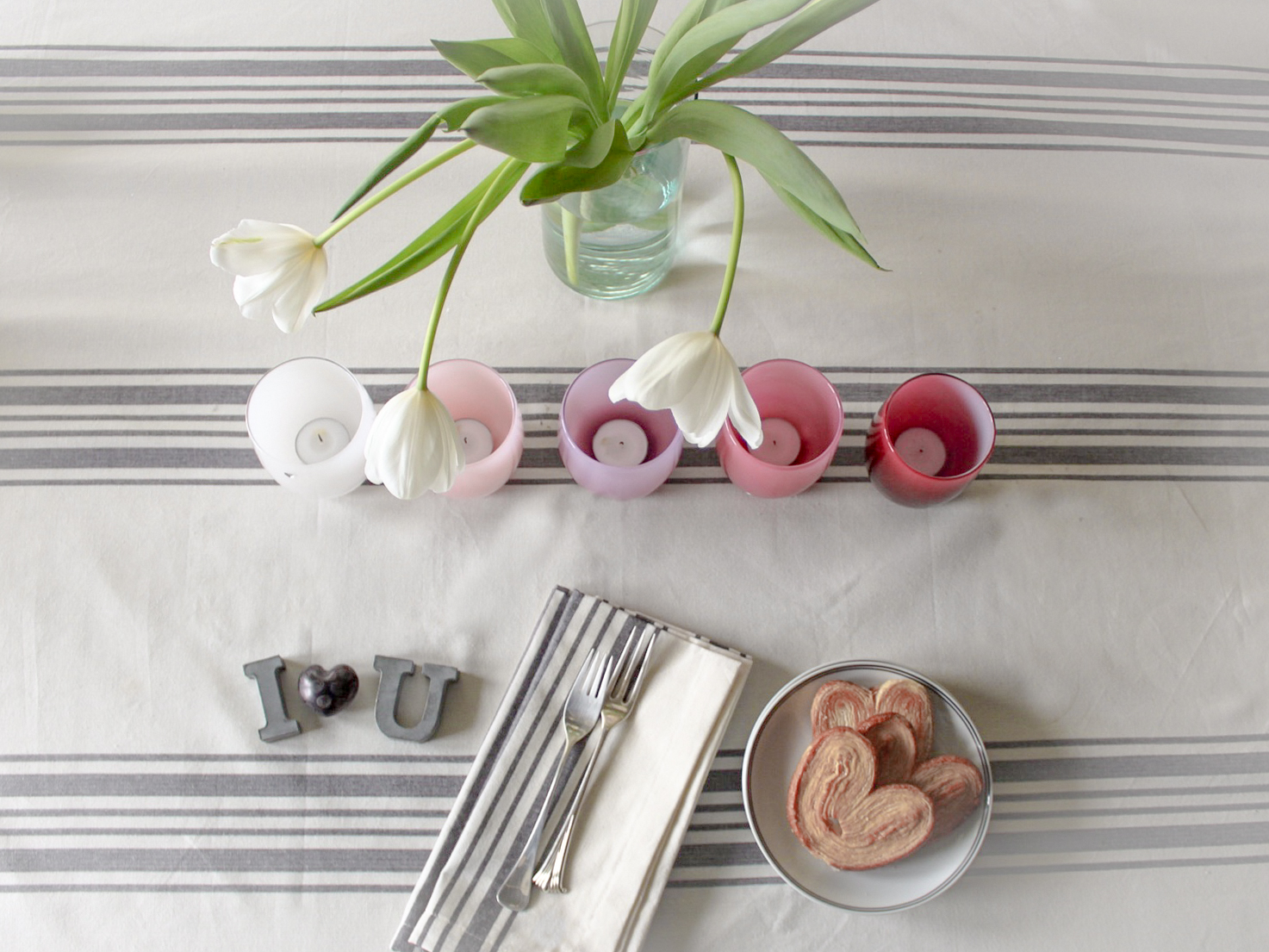 Creating a table top arrangement always involves flowers and white tulips are definitely an easy choice. Adding an unexpected element like these two tin letters I found at local small shop that was going out of business, where the perfect touch…  when I saw the "I" and "U" I remembered I had a grey stone heart that would be perfect for my table message…I <3 You….! It's so fun when a serendipitous moment happens! I then added a little plate of "palmiers", puff pastry that mean's "pigs ears" or as the French prefer to say,"French hearts", now I have a sophisticated theme taking shape. Simple, clean and modern.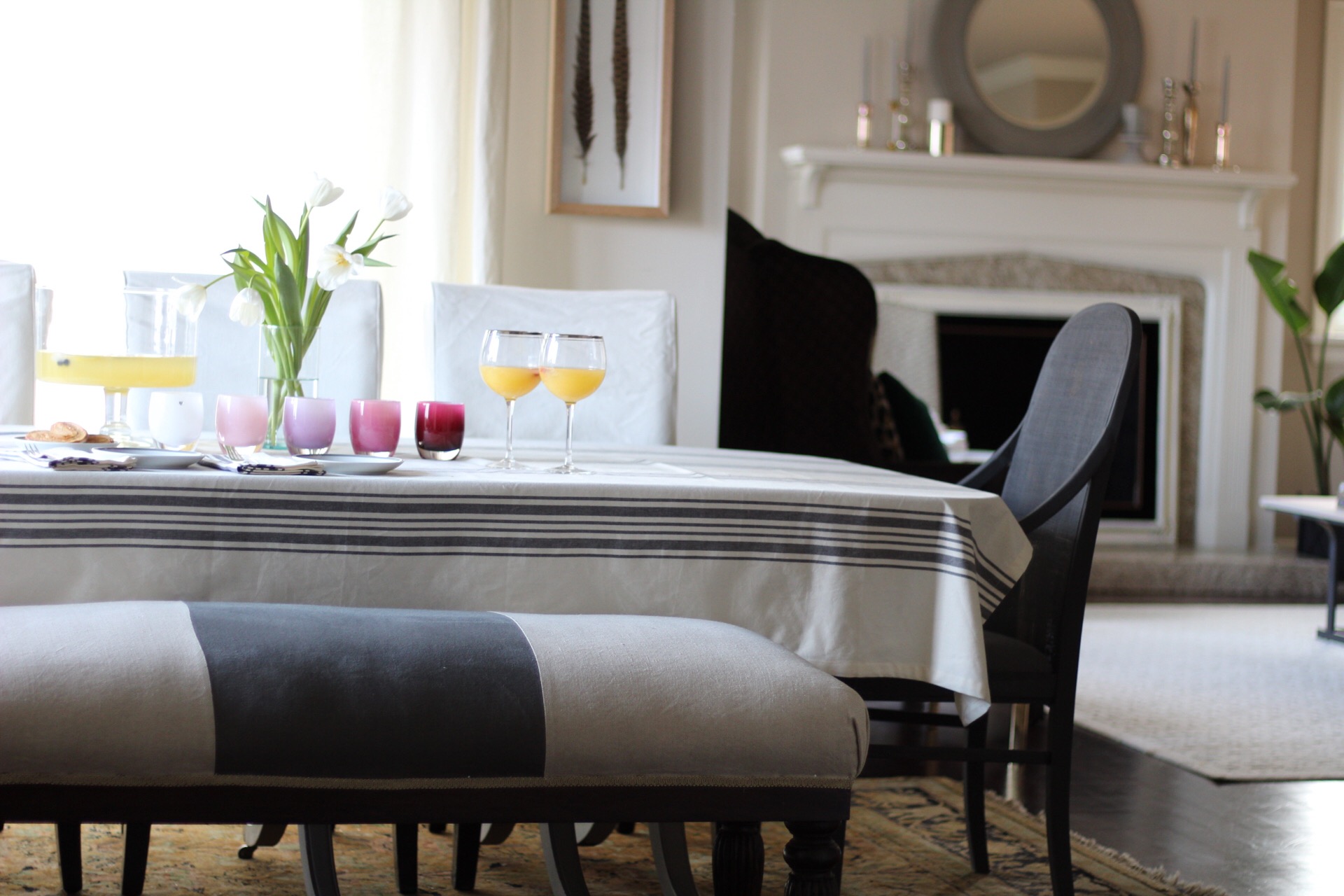 If  you follow me here or on Instagram, you might remember I used that glass pedestal bowl  for my winter wonderland snow scene at Christmas. It was a thrift store find and now I'm transforming it into a punch bowl! I love the versatility of this glass bowl! The silver rimmed goblets were also a thrift find.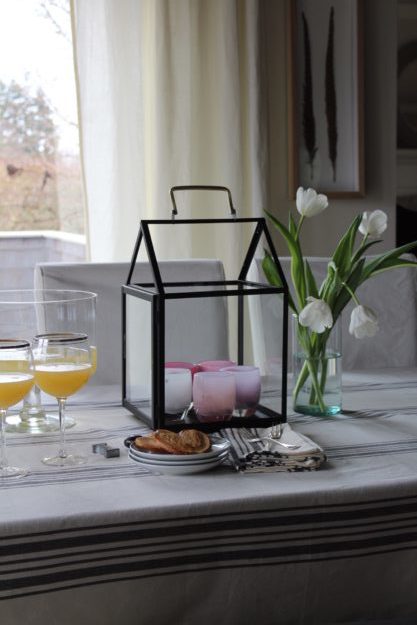 I decided to make a simple orange punch with orange juice and I had soooo much fun experimenting with fruit-filled ice cubes!! I did a little research and if you boil the water (and use pure filtered water)  a couple times (it removes all gases which create bubbles) before pouring into the trays, the ice won't bubble or be quite as cloudy.  Here's a view (below) with my ice cubes floating in sparkling water. Some of them have cracks, but they didn't brake ( no broken hearts here!) and they were so pretty.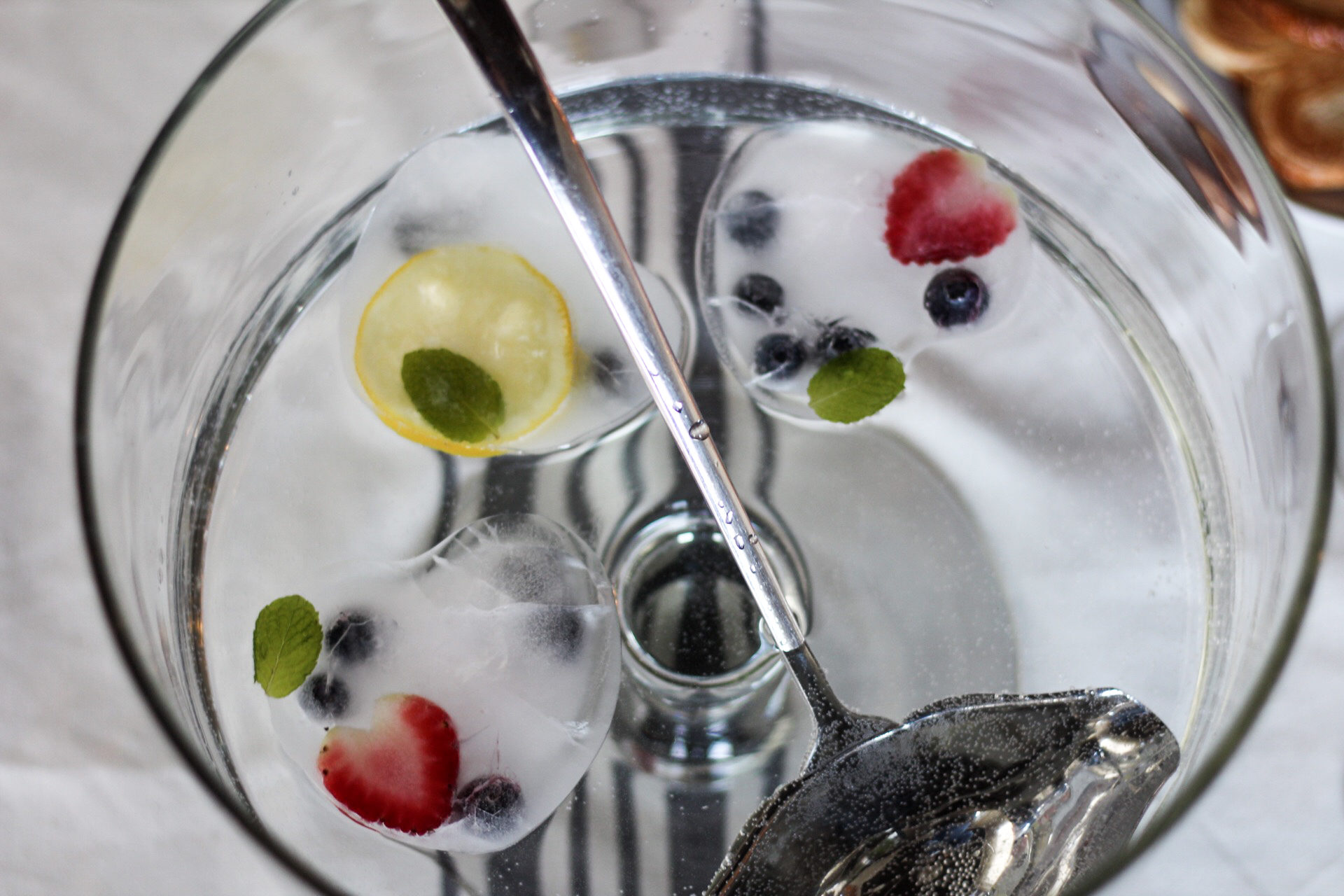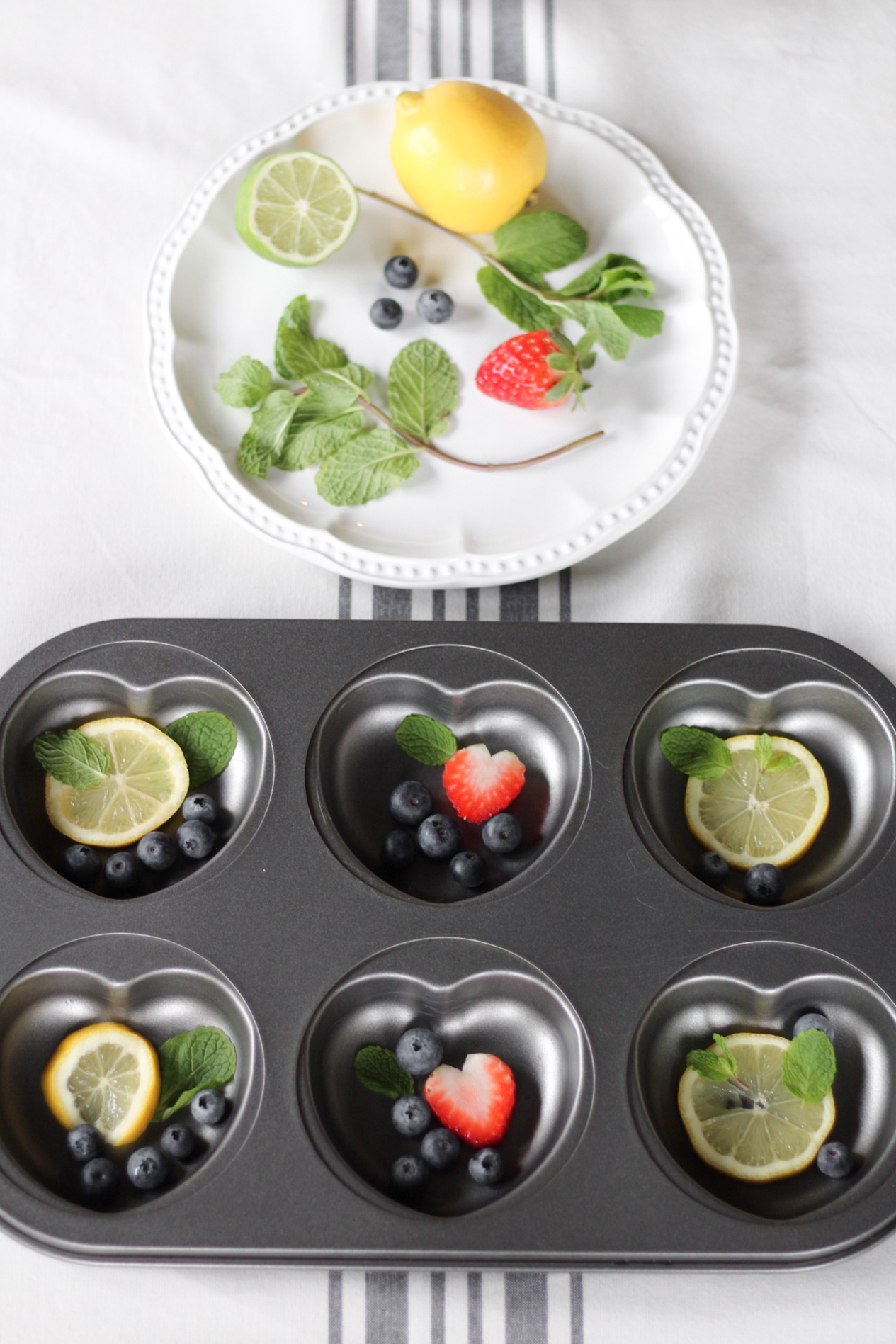 Here's how I made them: I bought fresh limes, blueberries, strawberries, lemons and mint. I arranged them by size and kept an odd number together (visual design rules)  and then placed them into a heart shaped baking tray that I had for making brownies. I also used a tiny muffin tin to make smaller ice cubes to fit into a single glass.
Here's a few photos of the big brownie tray and the tiny muffin tin I used. I also cut the strawberries into heart shaped by cutting a small wedge out when I took the stems off. I put blueberries in with lime wedges and mint leaves in with the strawberries…keeping a touch of contrast to each one. They looked so pretty, even before I poured the water in!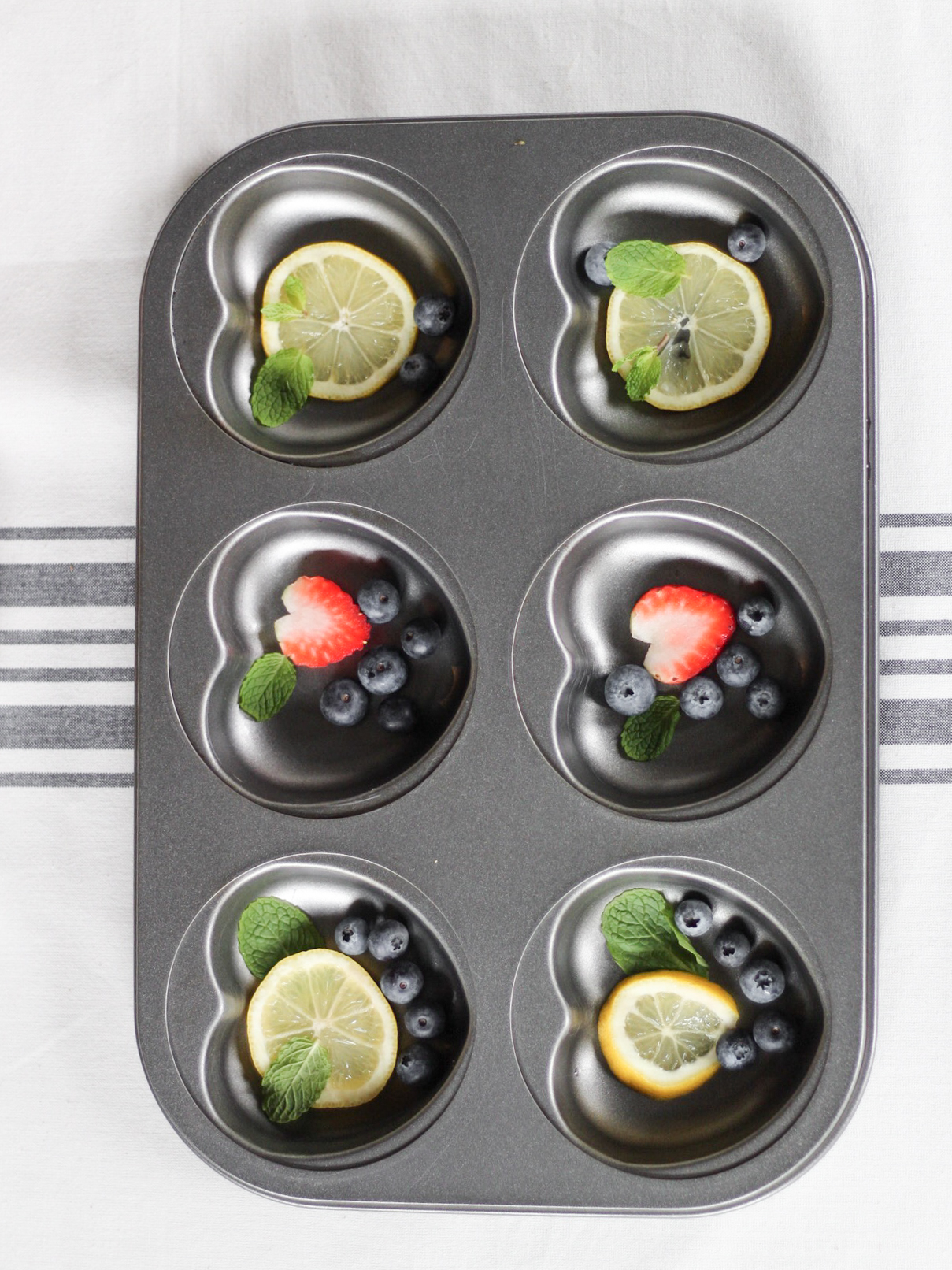 Here's a look at the mini tin filled with fruit…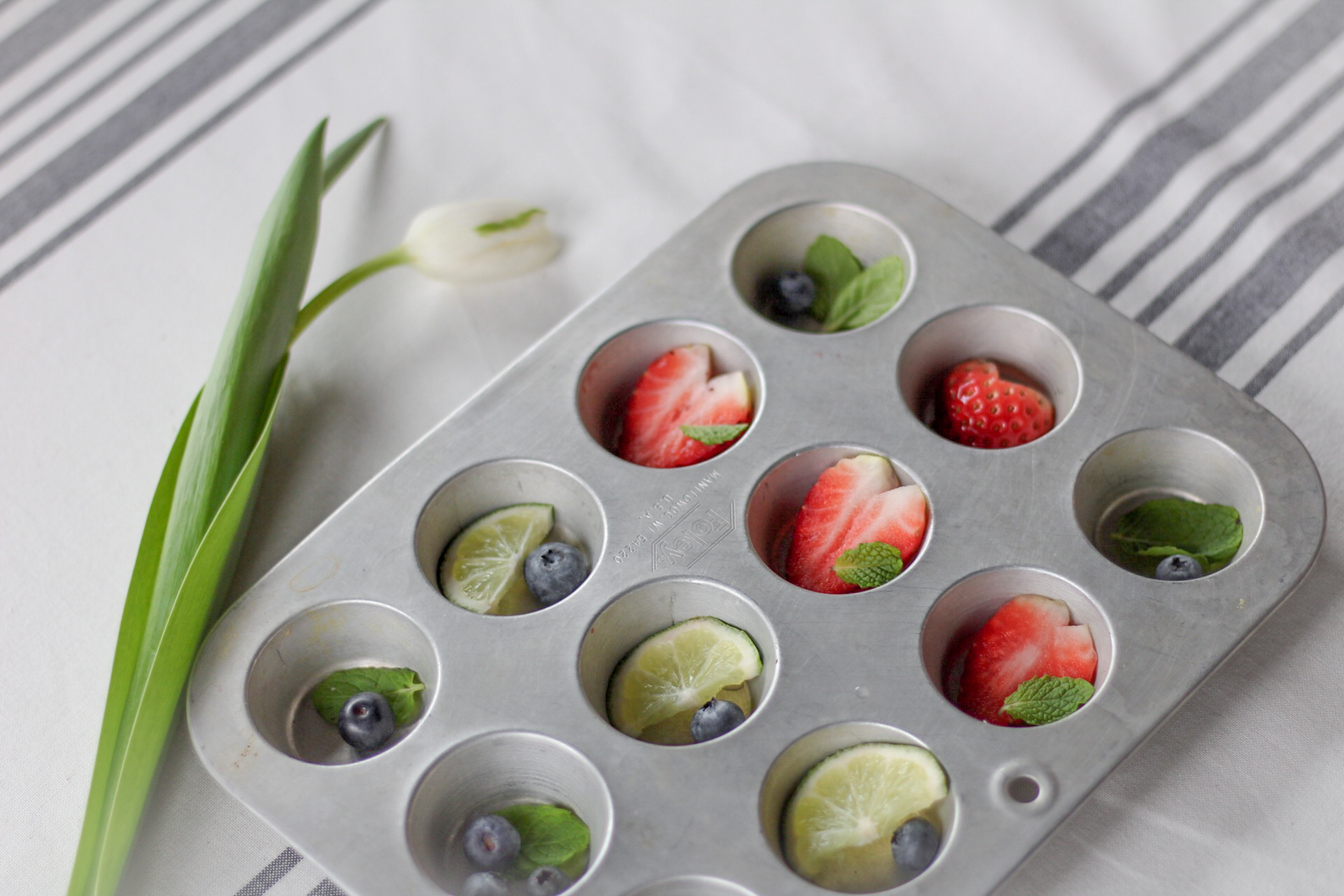 Here's a few more close-ups for you to see the fruit and mint combinations…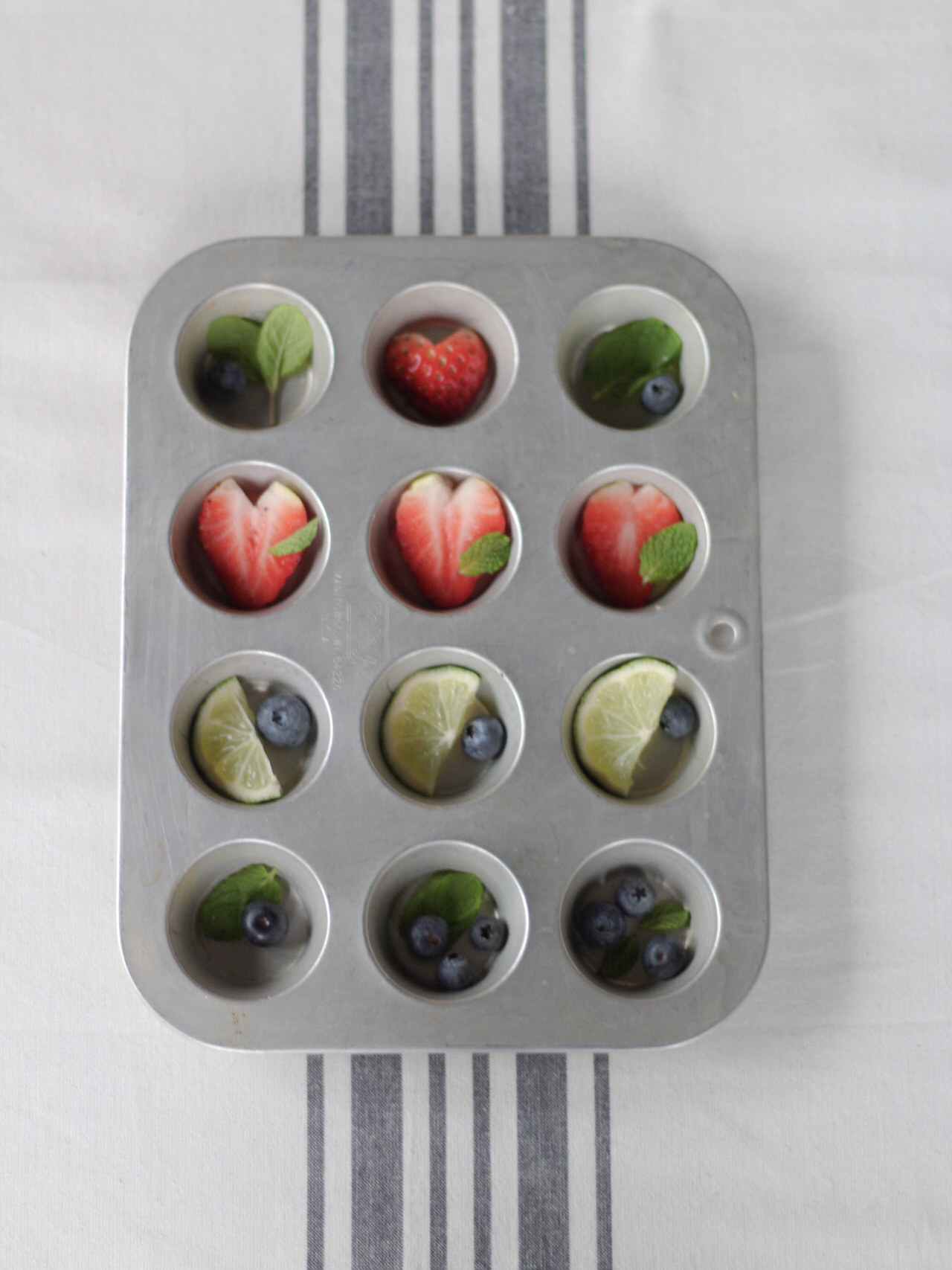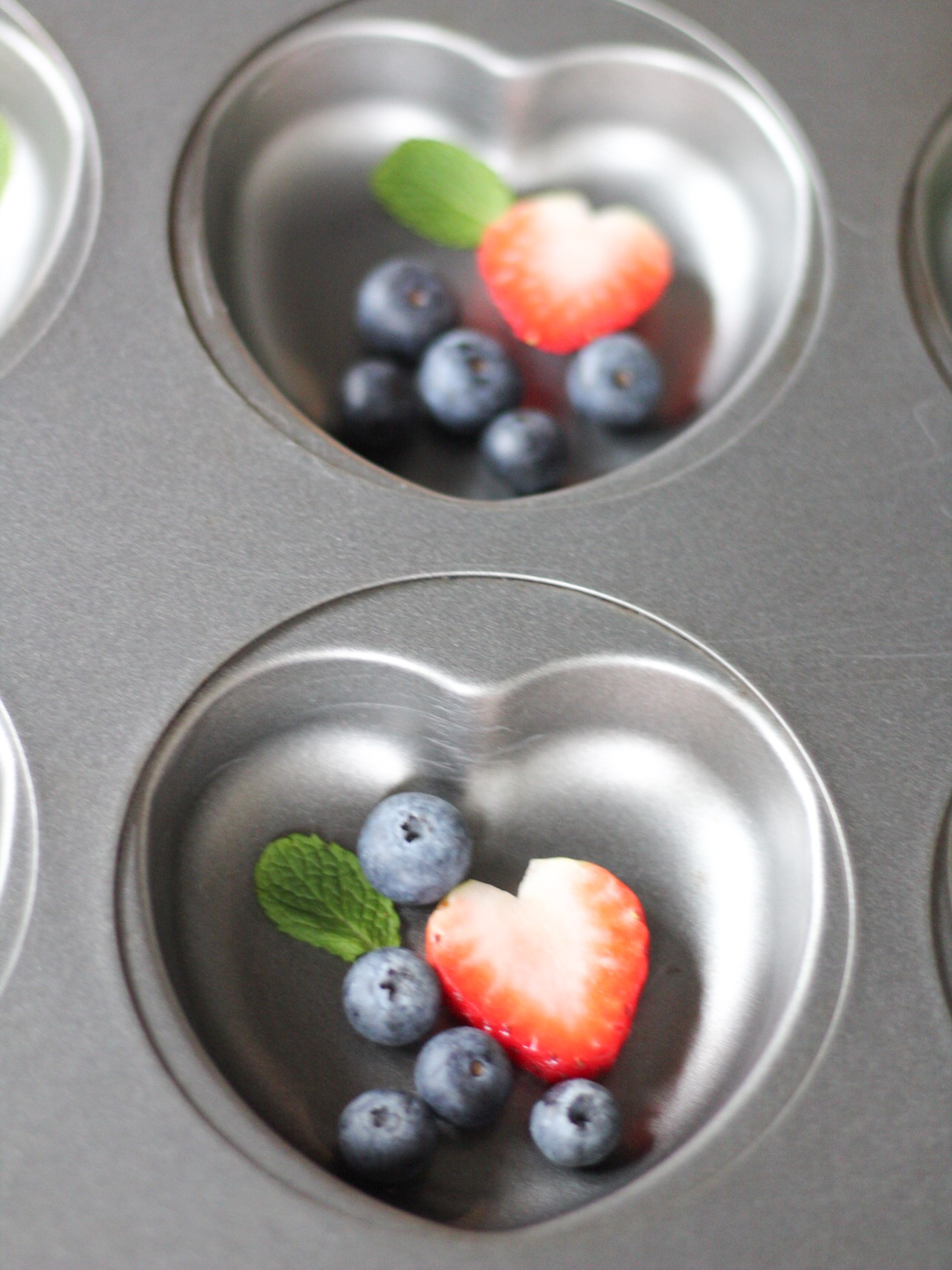 I think the little detail of adding the simple touch of making special ice cubes adds a festive flare to the overall tablescape.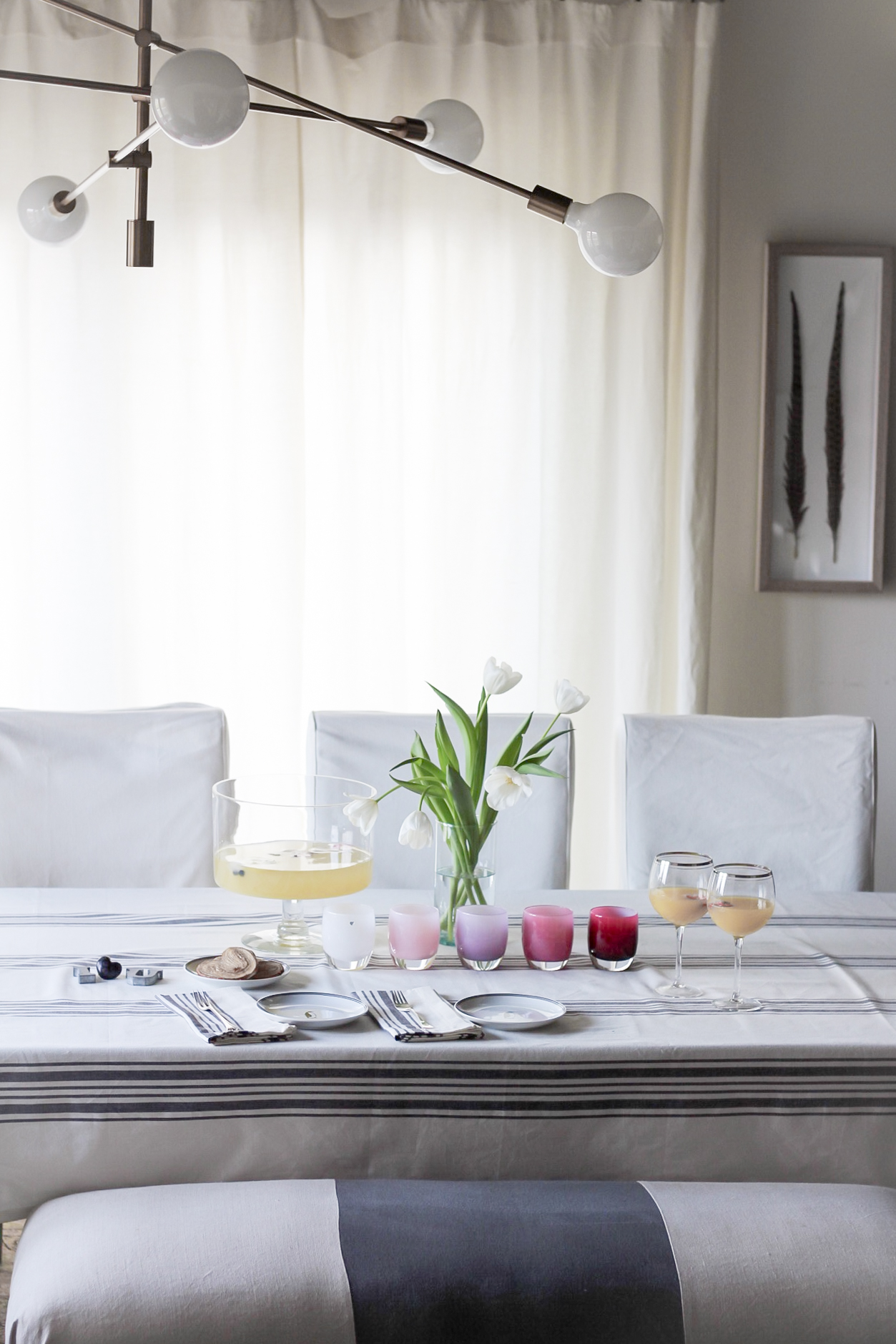 Back to the candles…I liked them lined up in an ombre' effect, and also inside this black steel framed house lantern I bought from Target. It's one of the new collection pieces from Hearth and Home. I love the black graphic lines and feels like a tray on my table for the GlassyBaby votives. At Easter it would look great with grass and eggs or more colorful candles.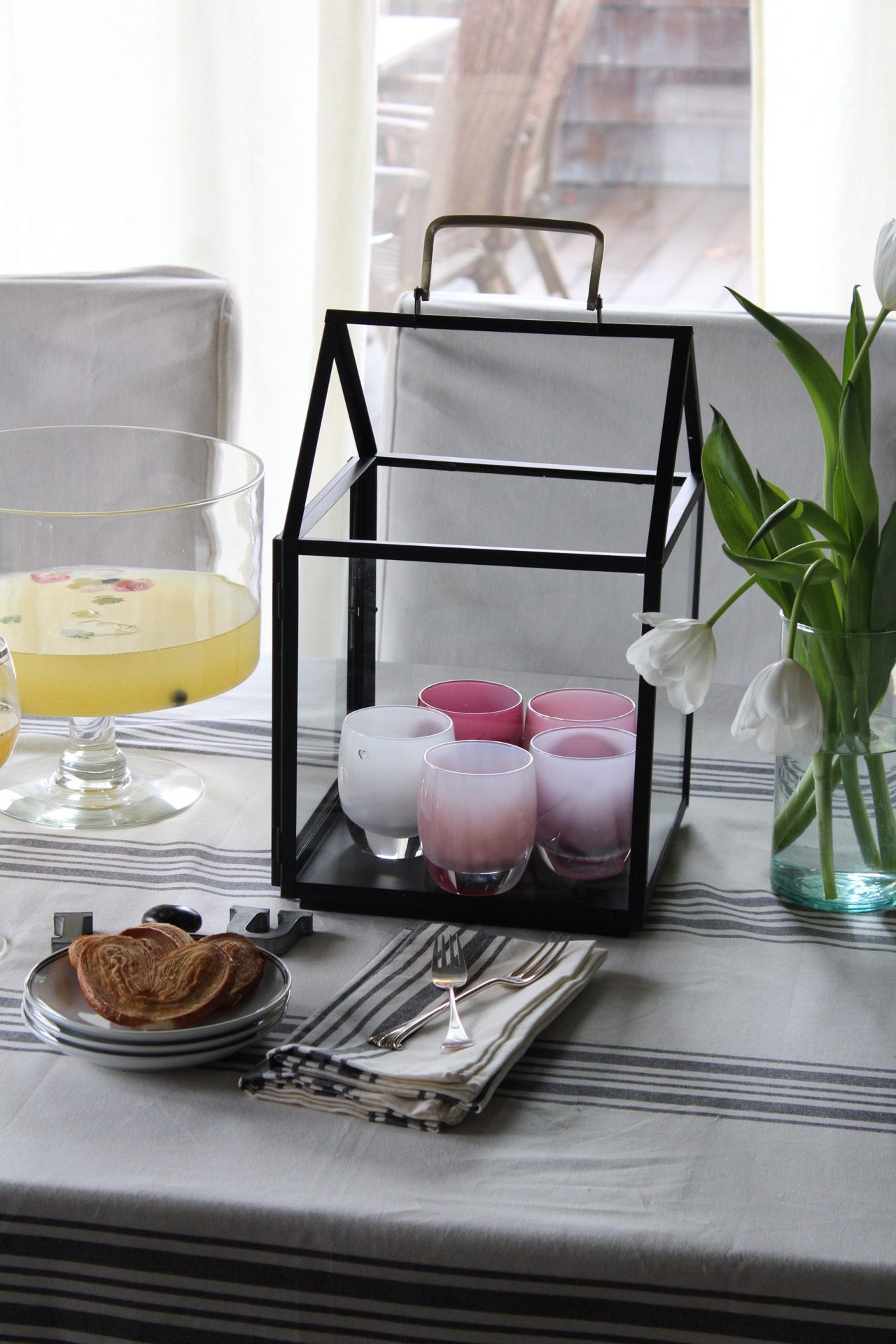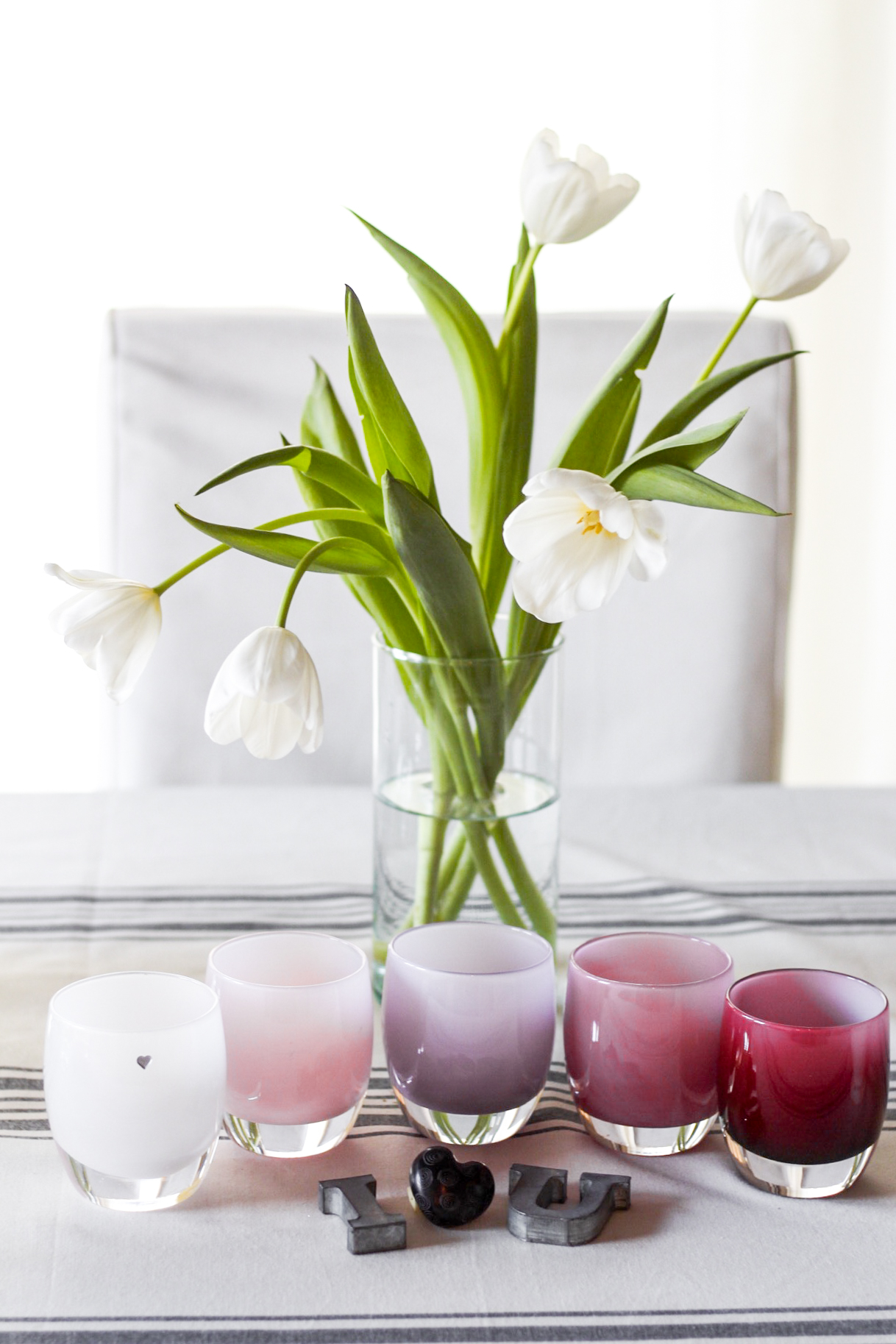 I love to support local businesses and GlassyBaby makes a difference in the community by giving back. With every purchase, GlassyBaby gives 10% of the sale to the GlassyBaby White Light Fund to help people, animals and the planet heal. Their featured partner for January is the American Cancer Society to provide transport services for cancer patients.
The beautiful votive candle on the far left is called "Cherished etched" – it has an etched or  "engraved" silver heart on it. and 10% of the sales of this votive will go towards the Alaska and Washington state Make-A-Wish foundation to help create life-changing wishes for children with critical illnesses. A dear  friend and baseball teammate of my son, at age 15 lost his battle with cancer (sarcoma) and the Make-a-Wish foundation did amazing things for him that we are deeply grateful for.
Here's a link if you are interested in these beauties! http://www.glassybaby.com
I hope this post INSPIRES you to spread a little light.
Fashionably Yours,
Lisa
"Let your light shine before men in such a way that they may see your good works, and glorify your Father who is in heaven."
Matthew 5:16