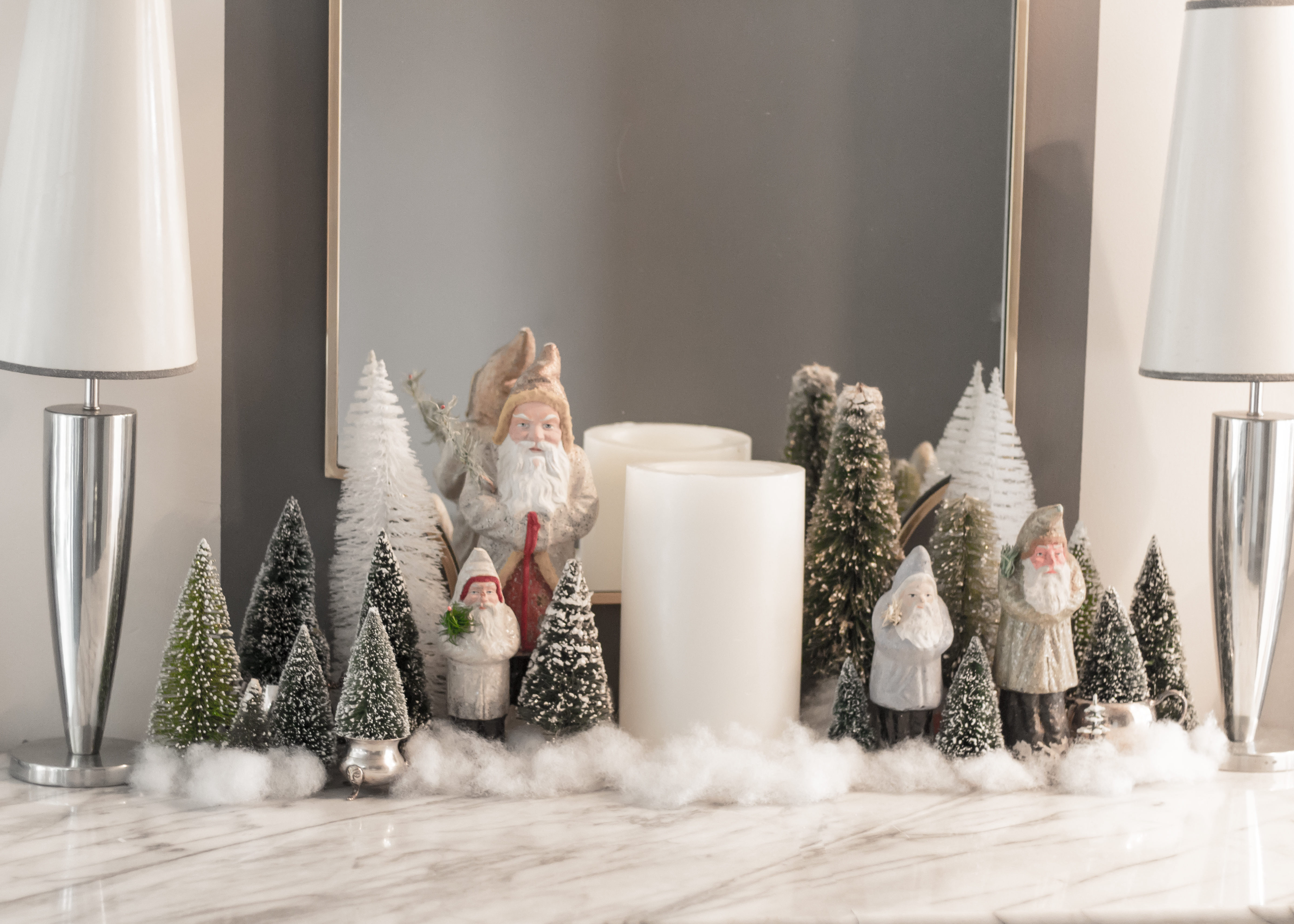 Can you believe that it's almost Christmas? Dressing up our home for the season always gets me in the mood to have company over, share meals, bake holiday goodies and make my family feel special and pass on those warm and fuzzy vibes! I have done a lot of shopping for my career, and I thought I'd share what a designer's eye focuses on and how I see possibilities in ordinary items and castaways. This little white snow scene, in the photo above,  is on my marble top trestle table (a $40 thrift score item I love!)  next to my kitchen. It's where desserts are placed when our family gets together for a holiday dinner and the white marble makes food and decor look amazing and it creates a beautiful background canvas that elevates the look of anything. I have a real passion for marble! Christmas home details can get overwhelming, but I find grouping similar items together, which is often referred to as "en masse"  gives more strength and importance to what might otherwise get lost. Those little bottle brush trees are an example, they are much more effective as a group in this display.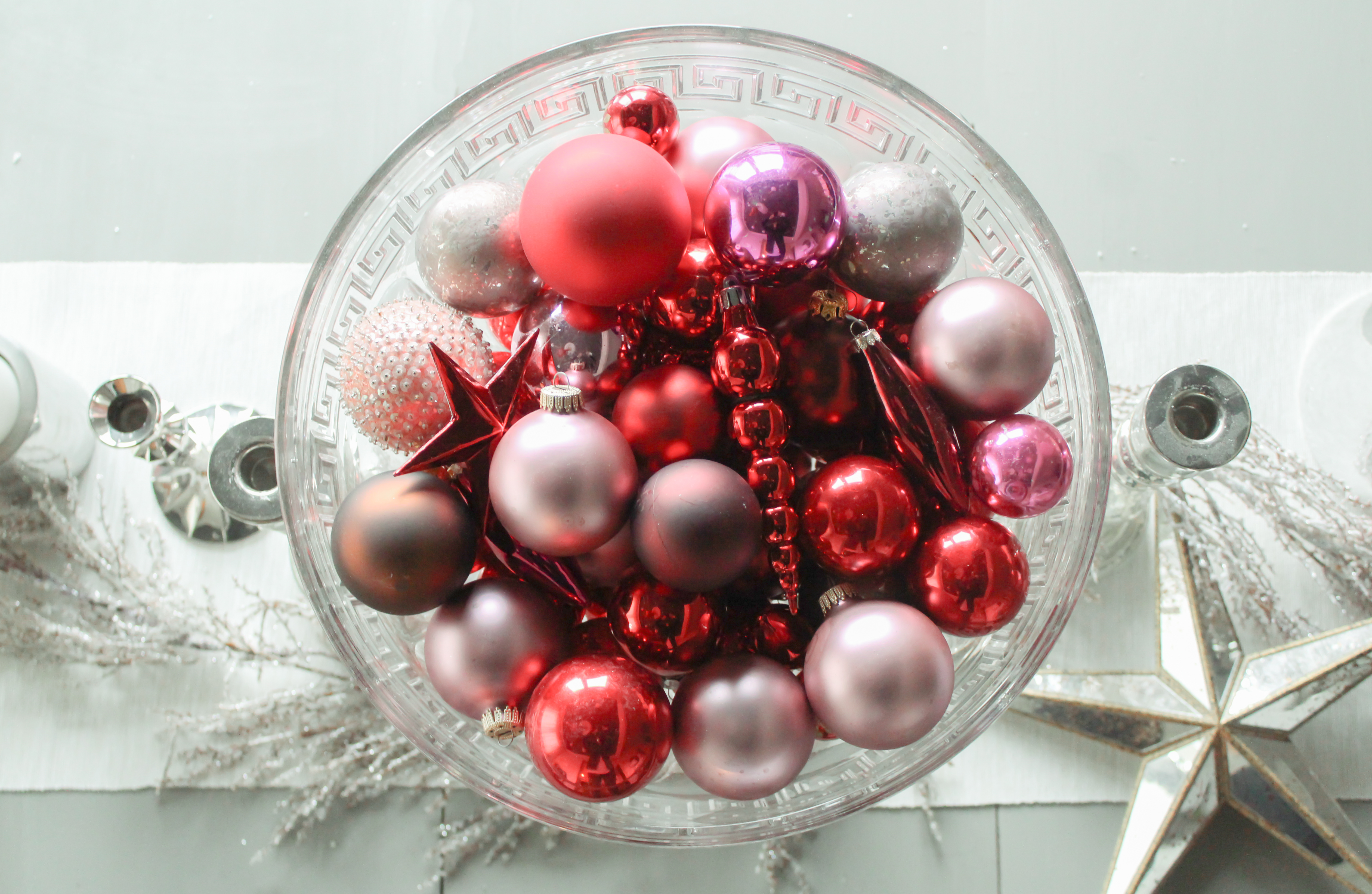 Here are a few of the easy ways to bring Christmas into your home without breaking the bank! I have a method that I use for shopping for design ideas, what to splurge on and some simple decor items and tricks I use in my home. I thought I'd share a few of my favorite ways to "cheat" the look and still feel current, modern and sparkly during this joyful season! Here's another easy decorating trick…I collected glass ornaments at the local thrift stores this summer and fall and gathered them by color and placed them in a punch bowl! I see punch bowls at the thrift stores all year round, and I love finding the ones that are more modern and not too flowery in pattern. This one was a gift from my Mother-in-law many years ago. I love the Greek key pattern around the edges, it feels modern and a touch masculine, which is definitely my leaning.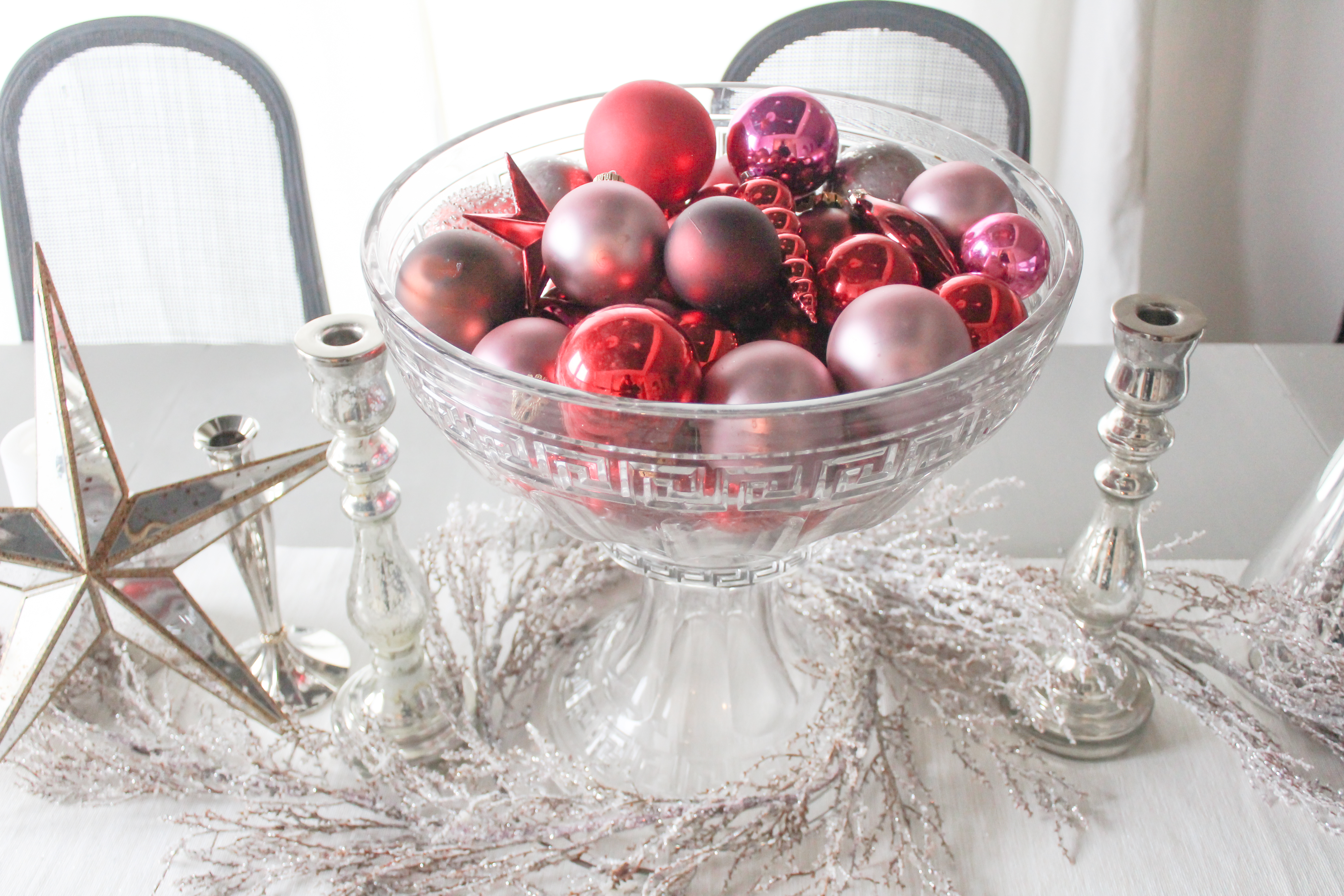 I added candle sticks in mercury glass and silver plate down the center of my table, again all of these were found during my hunts in the thrift stores! I don't even mind not having candles in them, they add sparkle and I might add ornaments or snowy balls on top of them to give them a finished look later!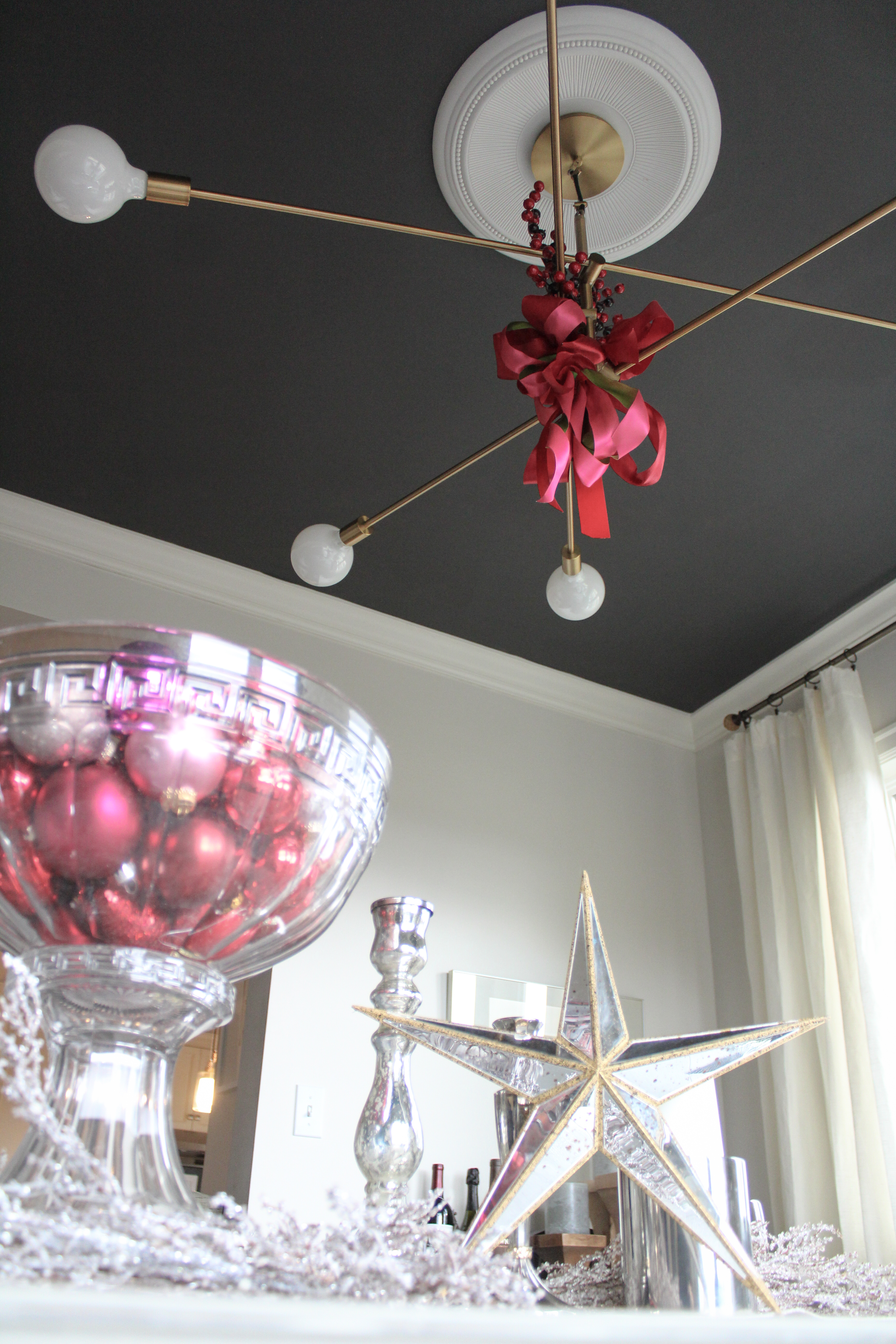 I recently bought a new light fixture from West Elm for our dining room. I use so many vintage and found items in my decor I felt I needed a more modern chandelier to balance the look. I painted the ceiling a dark charcoal color called Iron Mountain by Benjamin Moore and bought a ceiling medallion at Lowes and voile' a fresh look for the holiday season! Thanks to my sister's husband, the light was installed before Thanksgiving. ( sorry about your knuckles, though!!)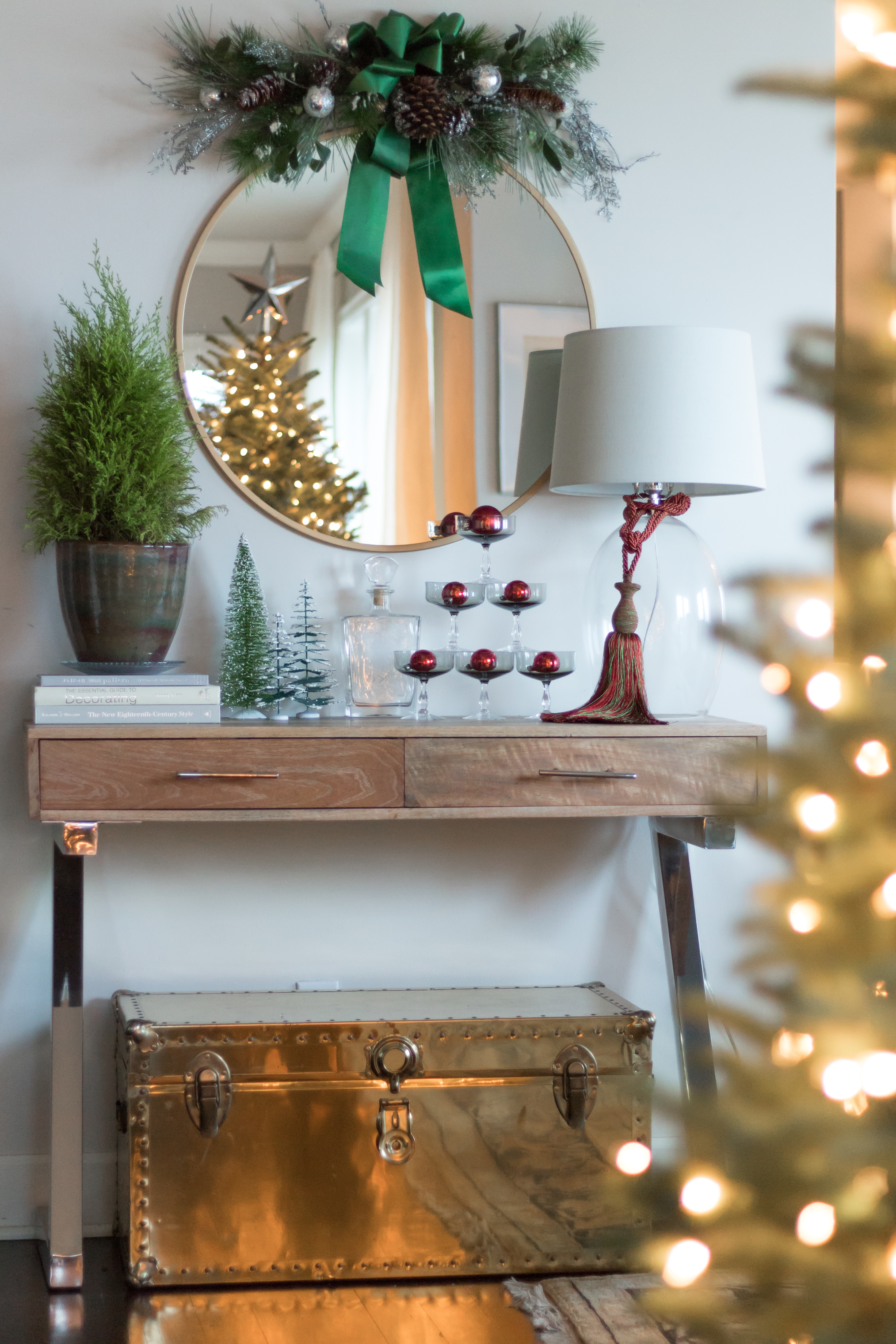 Continuing with the snowball and ornament display theme…I stacked my champagne coupes into a tree formation and placed red glass ornaments in them, to suggest a snow ball or a drink or a Christmas tree (duh!) …the goblets were yet again, a vintage shop find this summer. I found 8 at one store and 1 at another shop in a different town a few weeks later, isn't that an odd story!!! They are cut crystal bases with smoky grey goblets…my grey-loving heart loves them. lol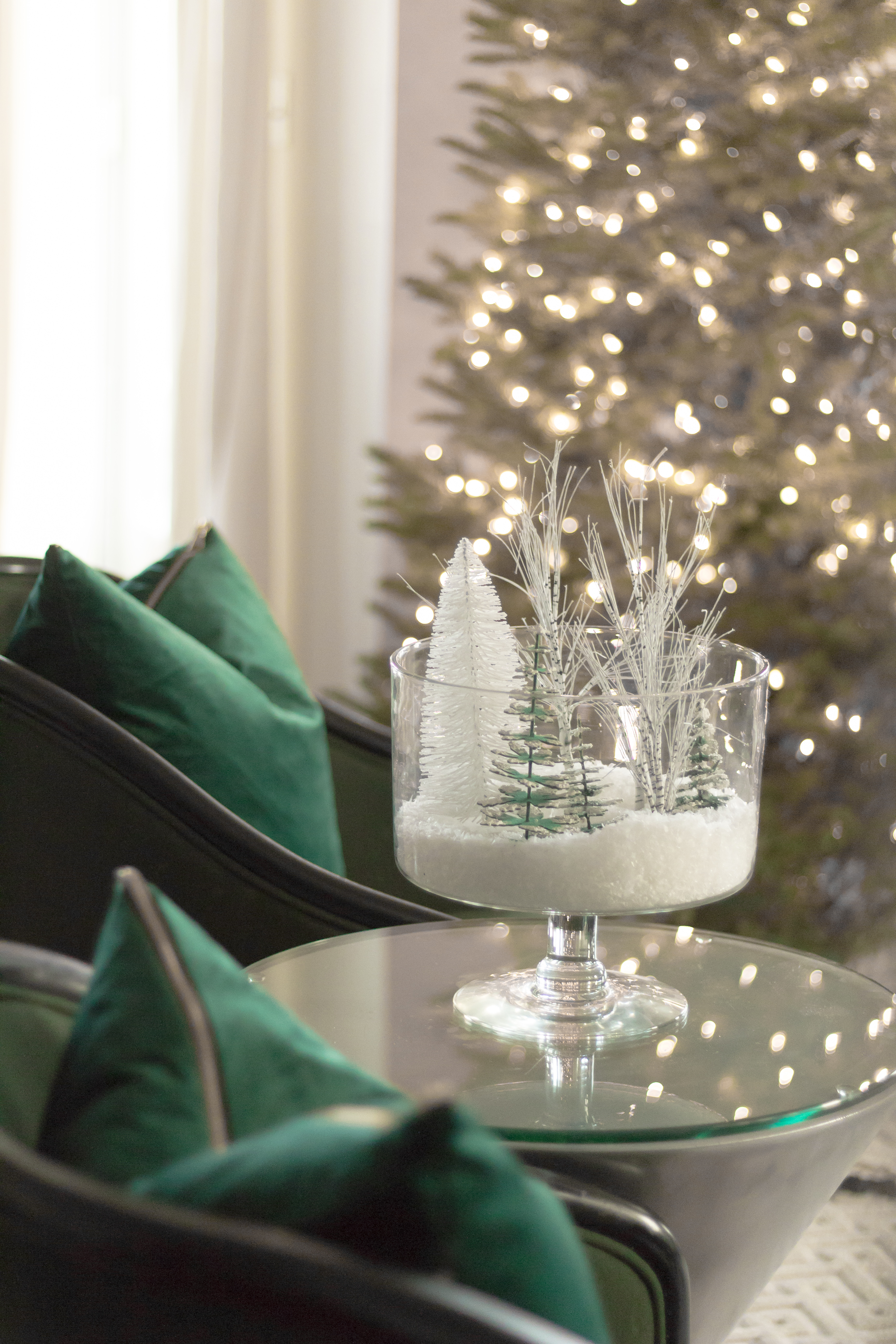 This is another glass bowl I found this summer. I love the modern shape, it was the main reason I bought it and I decided to create a winter wonderland scene with snow and trees I bought last year! I didn't pick a color theme this year for my home, I just decided to focus on the spirit of sparkle and snowballs. In my entryway I received a tree from http://www.kingofchristmas.com which is a beautiful snowy  8′ Prince Flock Pencil Tree that was the easiest assembly ever! I love it and would highly recommend it to anyone! Here's a look at it without any decorations…it's pretty with just lights!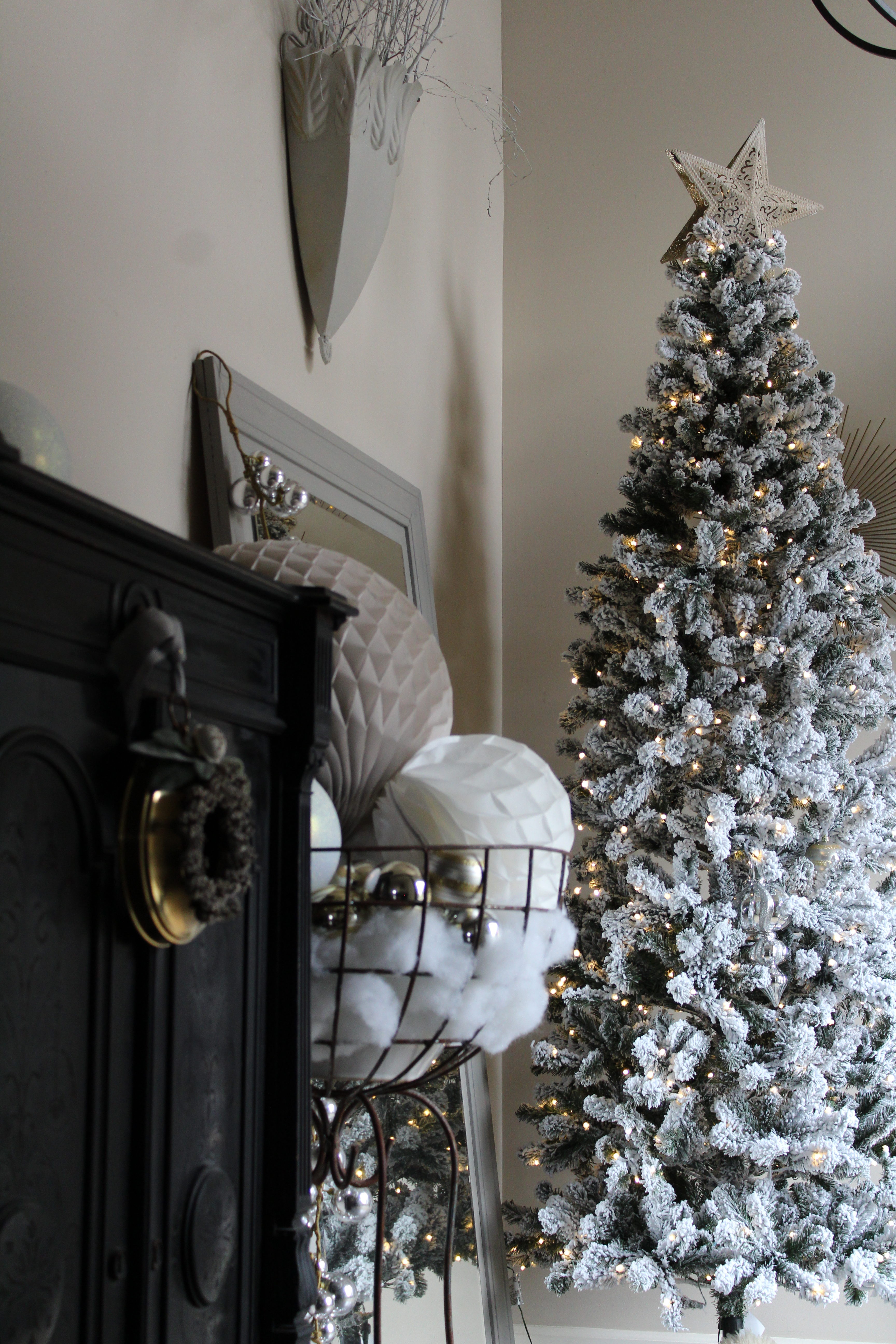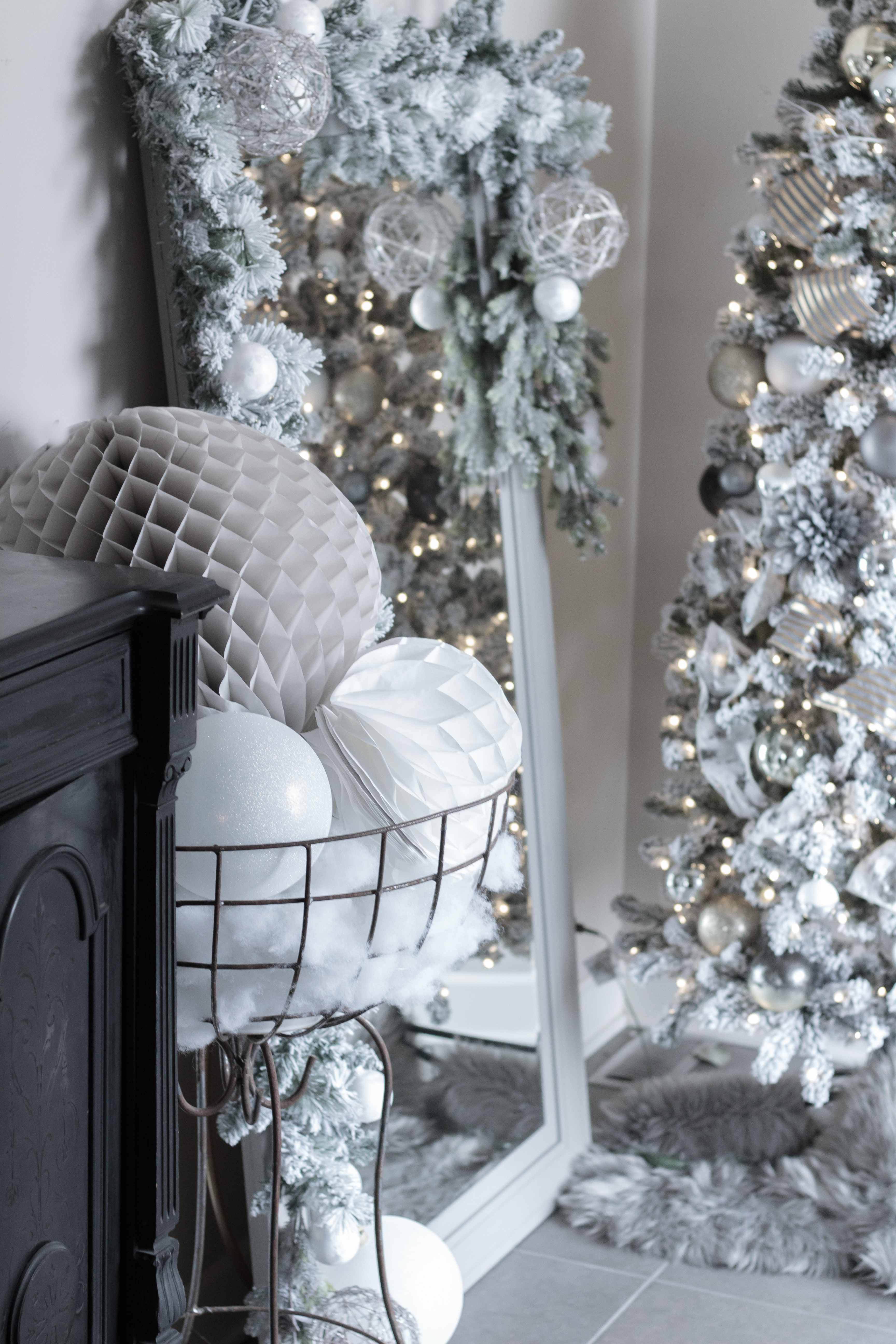 …and here's a glimpse of my entry tree with the decorations and ornaments…I wanted a snowy white entrance into our home and then gradually add splashes of color as you progress inside. I purchased many ornaments last year, at the end of the season and the only splurge this year was on the wide ribbon.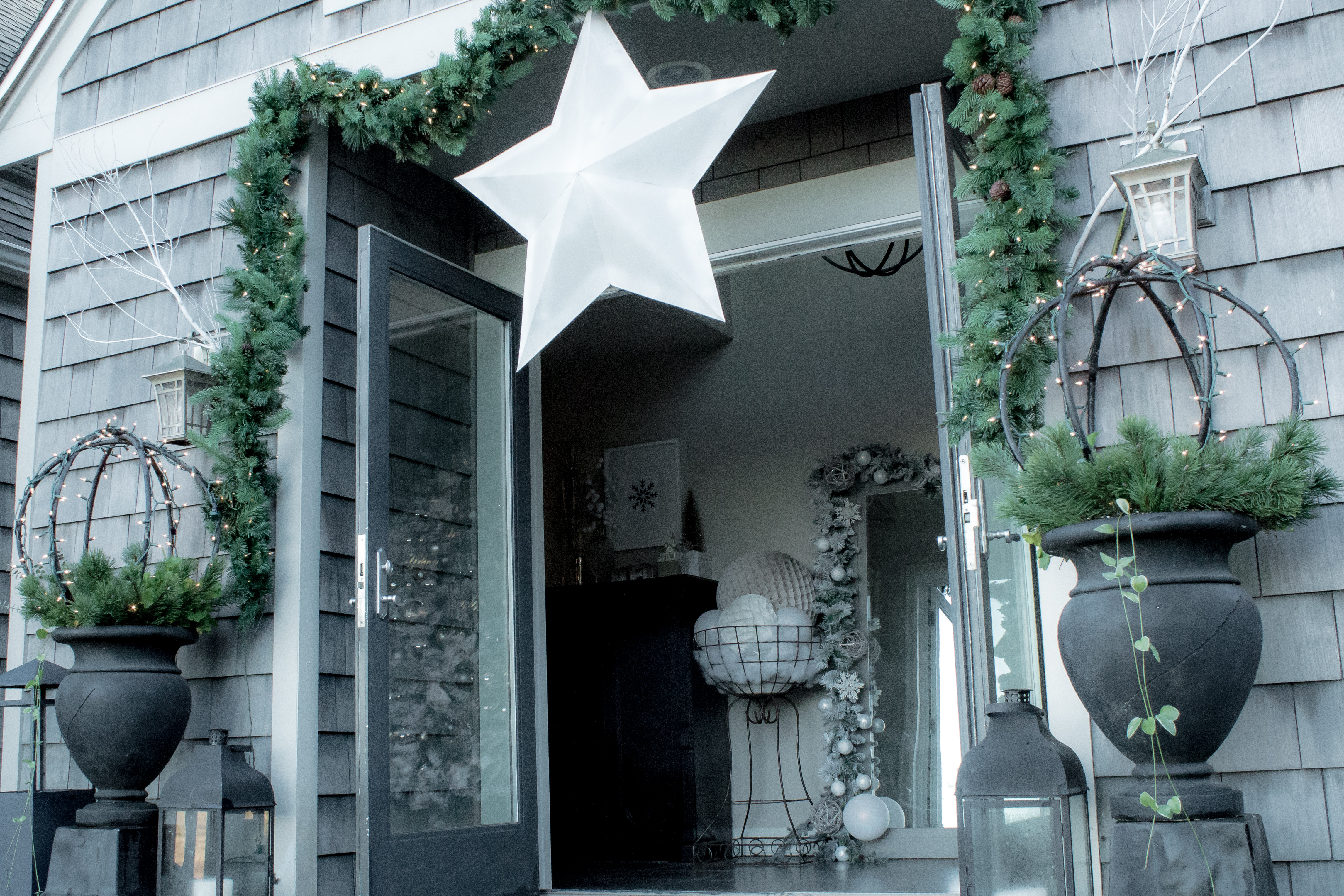 Here is a view of the front doors to my home, I started early this summer creating the planter pot spheres. I bought 6 small hula hoops from the dollar store and twined 3 together on the top and the bottom with wire, then sprayed them with black paint. I stored them in our shed during the fall and recently brought them up into the house to string lights on them to create again a snowball effect!  I used a string of lights that had 150 lights on it and carefully wrapped and secured the string with black electrical tape. I cut some branches from my pine tree and stuck them into the pot to secure the globes. They have stayed green for a couple weeks now!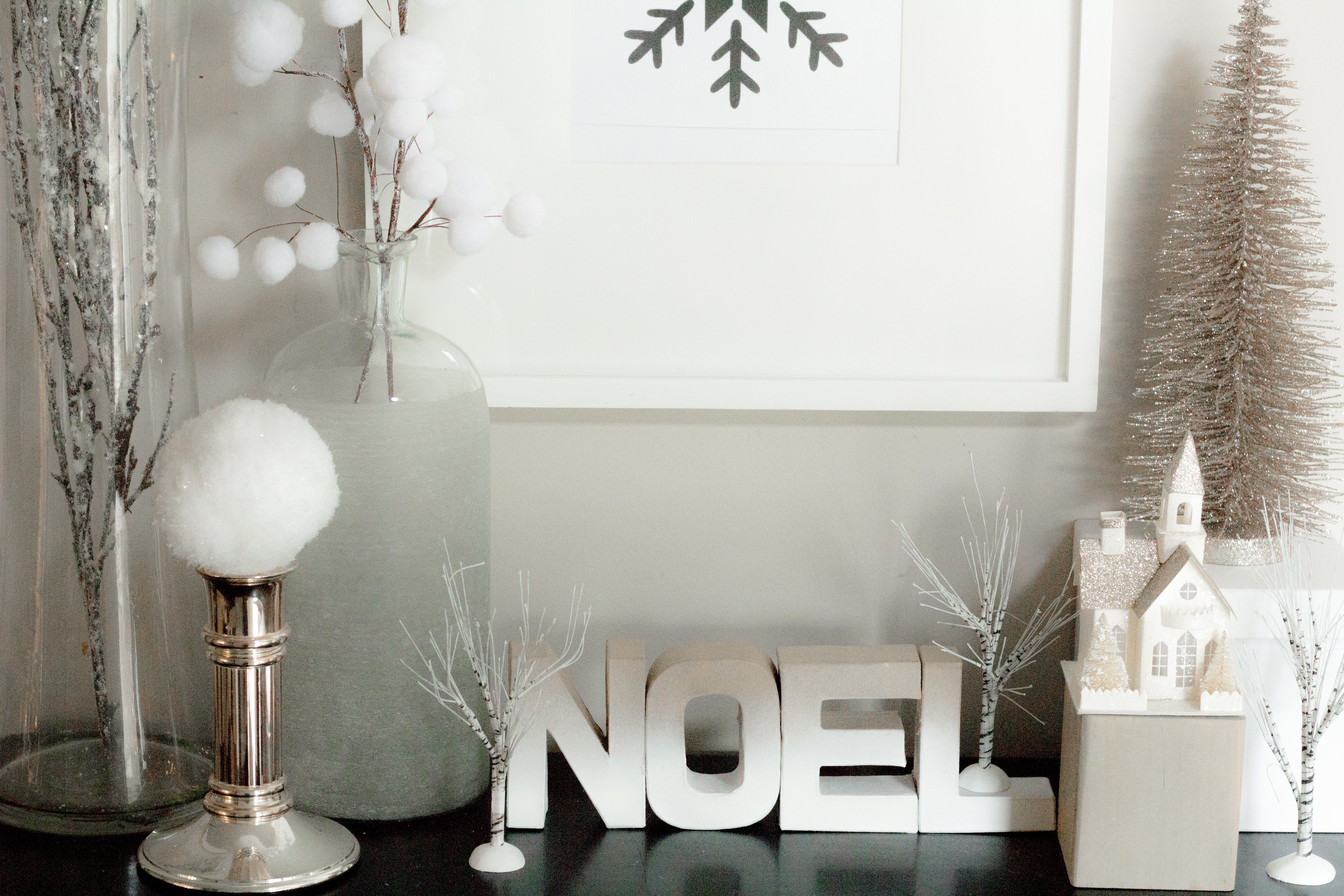 Here's a little snowball scene on my entry cabinet…now I just need some real snow outside and a little Christmas music, so I can plan and make my holiday dessert which I was asked to bring this year! I hope to post that soon! Happy Holidays!
XoXo,
Lisa