Hello and Happy Holidays! It's been a long time since I have written a blog post…
I'm excited to be back, after a long time away! I have been busy with a very special client since June and I have been dedicating all my design energies toward their project. I often compete for fashion design projects against designers located in NYC (hello fashion mecca!) so I have to hustle extra hard to stay relevant, fresh and inspiring in this ever-changing and competitive business we call the garment industry! I was fortunate to be back designing for my favorite merchandising team for the Pendleton and Trina Turk Coat Collections for Fall 2017-2018 season. I thought I'd share a quick and easy DIY elegant and modern holiday wreath and ornament projects you might like to try during the holidays!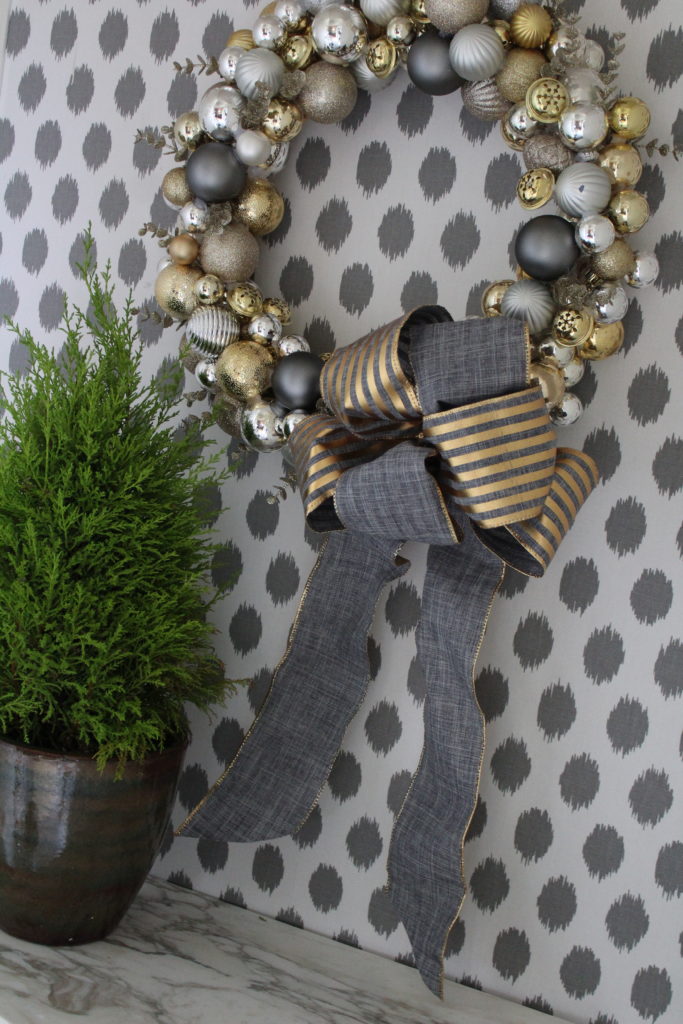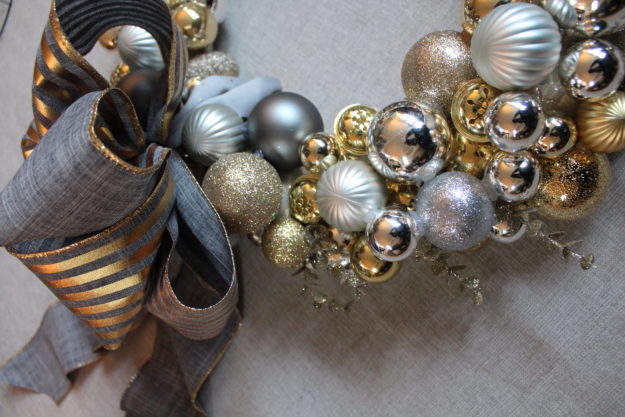 I have always admired ornament wreaths, so this year I decided to tackle one! I have had my entryway color scheme of grey, gold, and white for the holidays in mind for many months, this is a great way to start.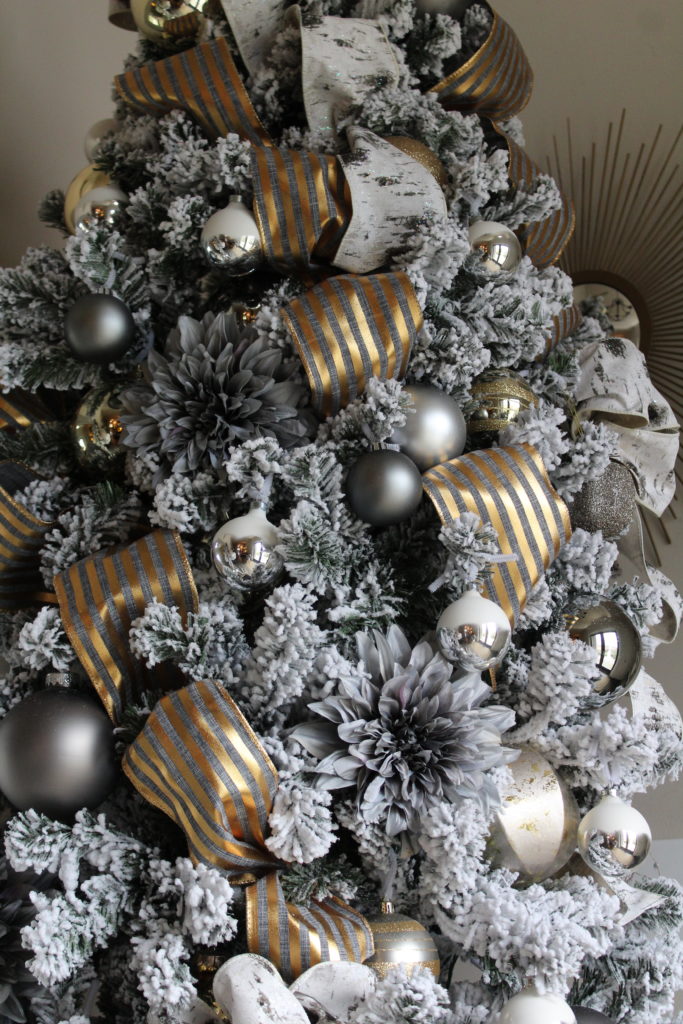 In fashion we always start with the color story first, so this helps me stay on track while shopping. Over the past few months I collected ornaments from many thrift stores, sometimes they were 5 cents a piece! It's a great way to afford the amount of ornaments needed. I loved the modern matte metal grey shade I found in a set of plastic ornaments at Ikea, so I purchased a box of them. The combination of glass vintage and new as well as plastic worked well together, the wreath would have been very heavy and delicate, if I used all glass.
I bought wire wreath making forms from the dollar store, for a dollar, of course!!!  You will need to wrap it with strips of cloth to make a base for the gluing process. I loaded up on glue sticks ( you will need a TON)  for my glue gun and also some small jingle bells from the dollar store to fill in those gaps and spaces as needed.
I was shopping with a girlfriend last month and purchased some specialty ribbon. The ribbon was a bit expensive, but the quality really gave it a modern and elevated level. I had so much ribbon left over I used it on my tree too. This is a great way to tie your theme and unify your home with your festive touches!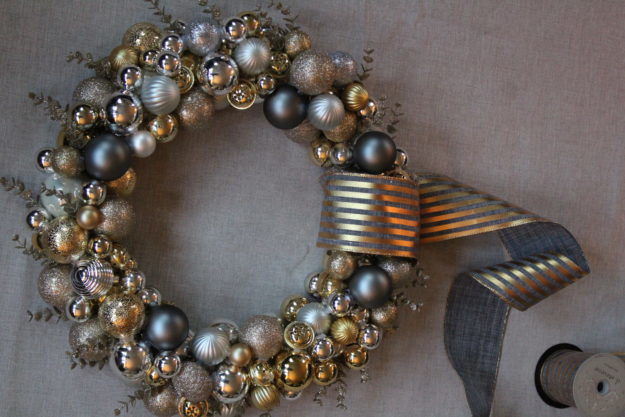 While creating the ornament wreath and plowing through all my supplies, I had an unexpected idea…those burned out Christmas lights that you usually throw away and an old brass clock frame that was the perfect size and shape…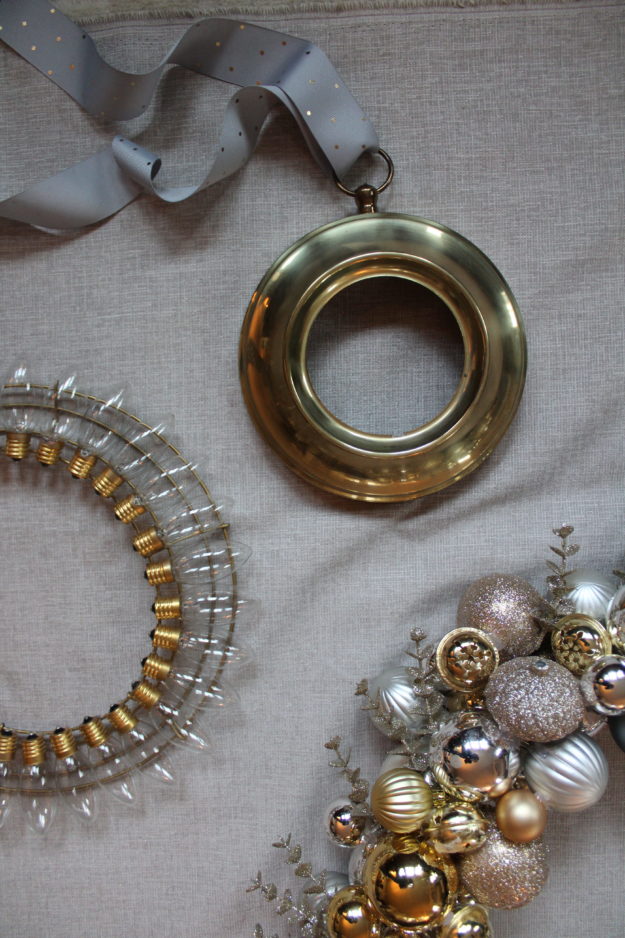 here's what I ended up with…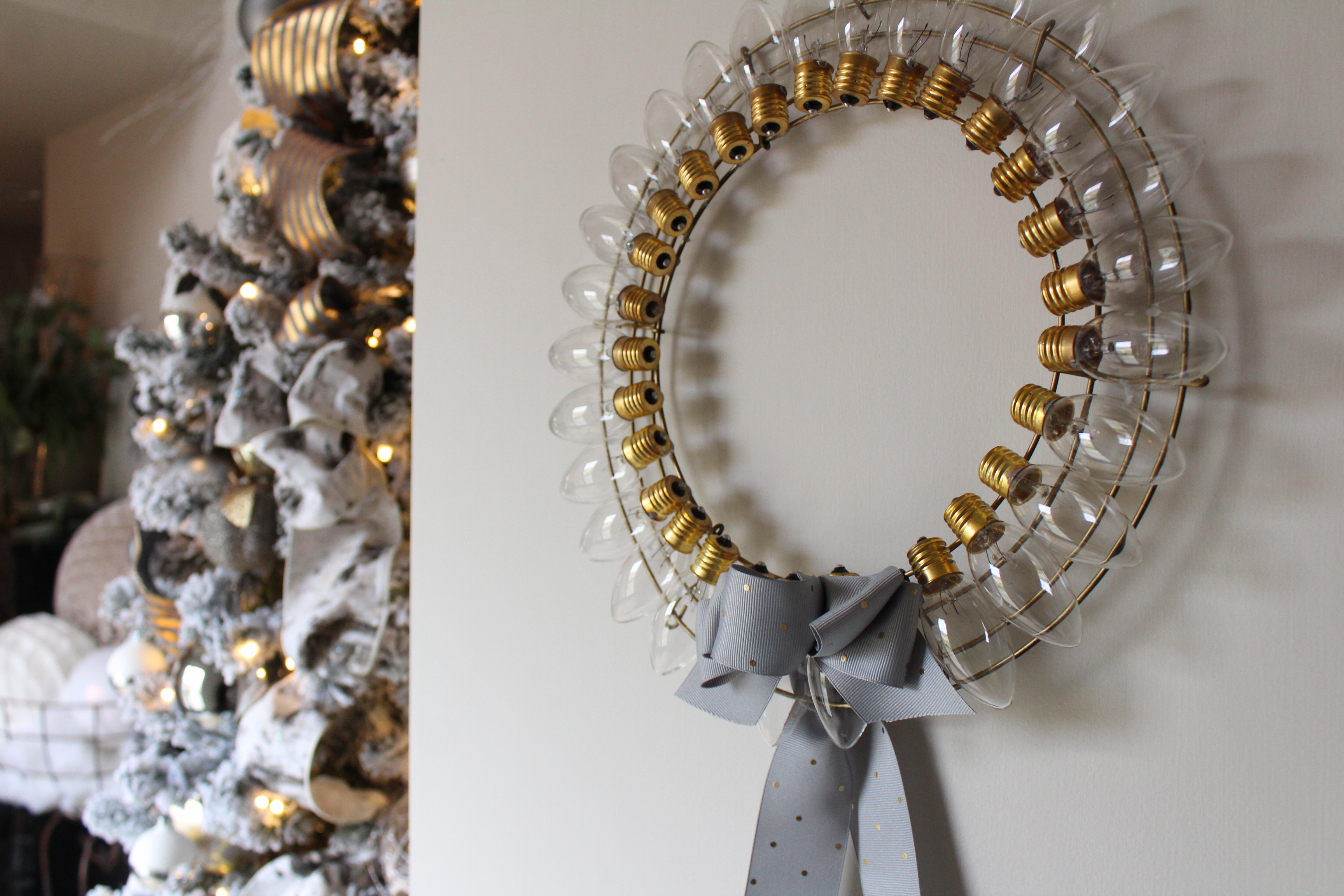 I hope you are inspired to make a special ornament wreath using some of these modern techniques this season!
Fashionably yours, Lisa