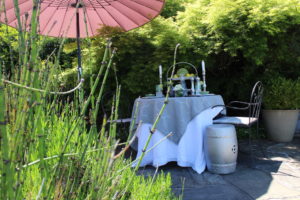 Summer is in full swing, and I am excited to get outside and take advantage of the warmer weather! My outdoor design inspiration comes from my bluestone patio. I love the natural tones and the variations of color in the slabs so I tend to treat it like my carpet and I build my color palette around their grey and beige tones. My Japanese maple tree and hydrangeas give a lush green curtain-like backdrop, and so I keep my tabletop decor the same so as to blend seamlessly with our outdoor environment.
Layering table cloths is great way to add elegance and drama to a simple round table. I found this white 100% linen table cloth on sale at Target many years ago, and I love the beautiful wrinkles that only linen used over time creates! It's both casual and crisp, my favorite feeling for dining. I layered a grey tone-on-tone Moroccan patterned cloth on top and love that it is subtle and still lends a bit of texture, and contrast against my white plates.

Here's a look at the table with touches of green and white flowers. I used my green leaf bowls in the center of the plates and put a  "donut" peach in the middle to pick up on the brass flatware color, aren't they cool?!! I have't seen these peaches before, the colors are so delicate and beautiful!  I put a leaf from my hosta plant in a vase for an added modern graphic (and eclectic) touch!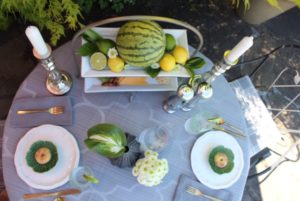 I love using food as the star of my tablescape.  I used my Crate and Barrel cake stand and layered the fruit and flowers on each tier. Starting with a small watermelon in the middle it's a great way to showcase the stripes  that mimic the hosta leaf, lemons and limes add color and continue the roundness of items I selected, tucking hydrangea leaves and a couple white mini mums complete the look. I cut a lime in half and placed it in the mix, loving the graphic lines and segments that it added to the arrangement.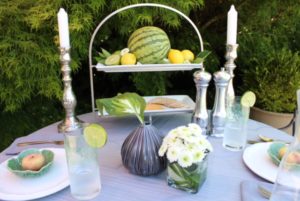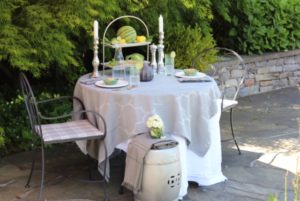 Garden stools are always so versatile. I actually keep this one year-round in my master bathroom shower! I don't have a seat built in so I use this as a shower bench…and since it's ceramic, it's naturally water proof! I spray painted it matte nickel and it has lasted for years! Here on the patio,  I use it to keep a shawl for when the sun goes down and it gets a bit chilly.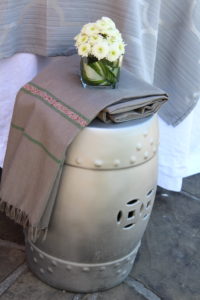 I like to create low floral arrangements for the table, especially a small table setting like this one. I found this square glass vase thrift shopping for 69cents! I clipped two hosta leaves and wrapped them on the inside of the vase, pushing them into the corners as best as you can helps showcase the veins of the leaf through the glass. Then, prep your selected flowers  by removing all the leaves from stems, as I did with the mini mums and clip them to the height of the vase, arrange in water and voile' you're a florista!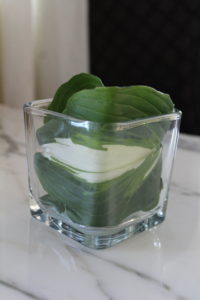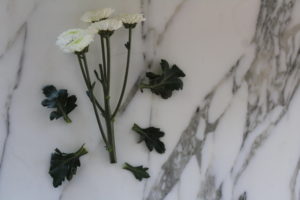 I have to share the best part of this center piece…it's that it is 90 % edible! Here's my new favorite way to eat watermelon: use your Christmas cookie cutters  and cut your watermelon slices into stars, isn't this festive and just perfect for the 4th of July?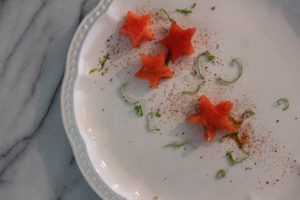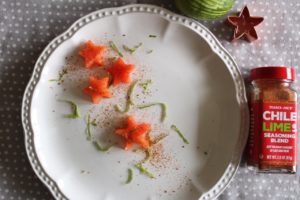 I grated the limes with a microplane I have from Williams and Sonoma to get the zest and then the secret ingredient is…..drumroll please:::: Trader Joe's Chile Lime Seasoning salt! WOW, I can't tell you how yummy this is…you will have to try it and let me know what you think!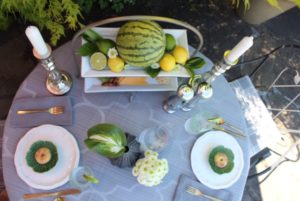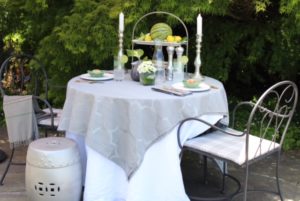 Bon Appetit!
Fashionably Yours,
Lisa