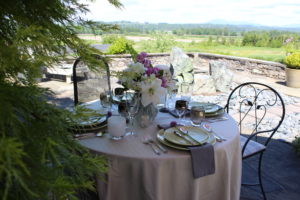 I love to dine outside! I think when people, food and scenery combine they take on a certain glow…or could it be the wine and candles, lol…hmmmm?!
This year has been a very wet spring in the Seattle region. I know you hear about our abundant rainfall and gray cloudy days, but this year has been ridiculous! We set records for rainfall and that's not a trophy-making moment! So now that the sun has arrived, I start to "nest" outdoors!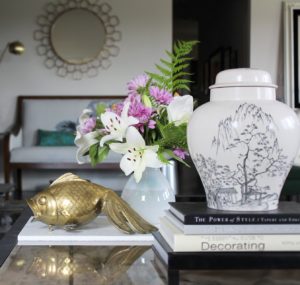 Mother's Day signals the start of our warmer season, and it is always special to me…I was not blessed with strong baby-making genes, and so I feel extremely grateful to have had one son. This year was the first year my son bought me flowers on his own… (perhaps a little coaching came from my sweet hubby) and it was a new phase of motherhood for me! I loved that many of the flowers in the bouquet hadn't opened yet, he had selected a bouquet with many buds as well as blooms.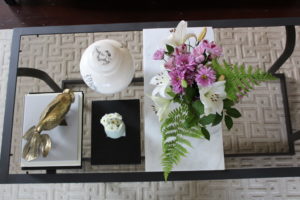 Most of the stargazer lilies were closed and it was spectacular to watch them open. The fragrance was delightful, too! I like to extend the life of my bouquets and blooms by "disassembling" them and then giving the ends a fresh clipping, toss the wilted ones out, remove any leaves that have died and giving them a new dose of water in a clean vase. You can see them in this 2nd phase on my coffee table above.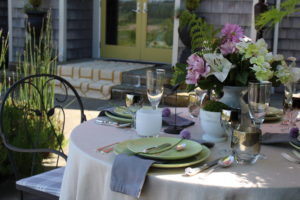 I took them to my patio to create the basis for my spring color table inspiration. I added some fresh ferns from my yard to give height, texture and a dash of chartreuse to pop a bit on the round table. Adding ferns was a simple way to create a little free drama to the mix! I always like to sprinkle a little drama into my designs. 😉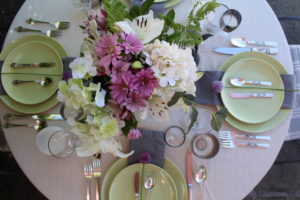 When you look at the flowers from a top-down view, as in this photo above, you can see that I like to arrange them by color and in flower family groups, This approach feels more modern, graphic and less stagnant to me. My chives were also in bloom, so I clipped 4 and used them as plate decor…aren't they fun?  They look like miniature alliums! I like the way they also feel a bit modern and delicate as the same time. The perfect accessory to the plates!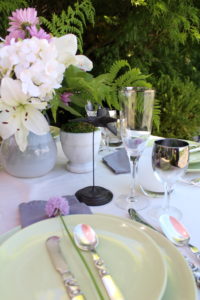 I love to use the color grey whenever I can…it's my go-to grounding color for everything. I have been shifting a lot of my decor towards grey and white lately, it feels crisp and new.  I use these grey napkins year-round, they receive my Kindergarten rating of an  A+  because they "play well with others"!!!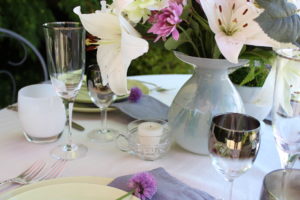 The spring green plates were a recently purchase from IKEA while on a fun shopping trip with my sister, I like that they harmonize well with our patio trees and the ferns in my centerpiece and add modernity to the overall effect.  I used layers of silver tones to further enhance the grey palette and keep it elegant and sophisticated. I love my "white" and "silverlining"  Glassybaby goblets, which were originally designed to be used as candle votives, but many people use them for wine, too. Glassybabies were originally created in Seattle and I love getting them as Christmas gifts from my husband and son, they know me so well! I also used my thrifted mercury rimmed stemware to complement the silver mix. They are a bit unexpected and pair nicely with my wedding crystal.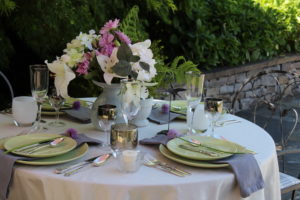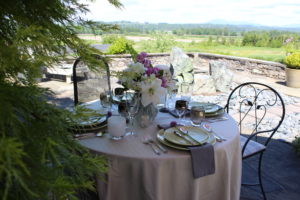 There's really nothing better than a scenic backdrop for dining…and I also enjoy the elbow room! Our lace leaf maple tree provides a beautiful canopy and would make it easy to see the stars after sunset…and feels so cozy!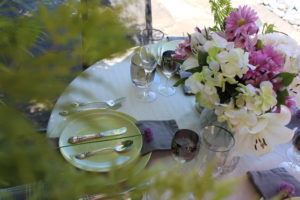 Cheers to warmer weather, friends at your table and stars over your head.
Fashionably Yours,
Lisa
"For He satisfies the thirsty and fills the hungry with good things."
Psalm 107:9